Concert Review by Lou Wigdor
Dave Holland Quintet
Iron Horse Music Hall, Northampton, Mass., September 26, 2001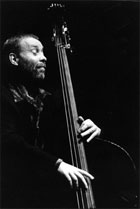 There's a revealing statement of purpose on Dave Holland's web site [http://www.daveholland.com], where the perennial Down Beat Magazine poll winner lays out his intentions as a musician and a band leader: "Something Sam Rivers said a long time ago has stayed with me: 'Don't leave anything out, use it all.' That's become almost a mantra for me over the years as I've tried to find a way to build a vehicle which lets me utilise the full spectrum which includes the [jazz] tradition, which includes playing the blues, which includes improvising freely. I love all that music, and there's been a desire to reconcile all those areas, to make them relevant, hopefully, in a contemporary context, as one music." Few among the packed house at the Dave Holland Quintet's impassioned set at the Iron Horse on September 26th would dispute that his current quintet -- now in its third year -- is the ideal vehicle for the band leader's explorations in musical history, geography, and futurology.

Ask anyone at the Horse that night -- the quintet's instrumentation was as distinctive as its repertoire.* The front line of trombone and alto sax (sometimes soprano and tenor sax) emerged organically from a virtuosic foundation of vibraphone, drums, and Holland's muscular bass playing. (That's a bit simplistic, though -- every member of the band can step forward as a formidable front-line soloist). Twenty-five years ago, alto saxophonist Jackie McLean led identical forces in a quintet that also yielded striking, innovative results. "Didn't they make some records on Blue Note?" Holland asked this writer. "In truth, the McLean group wasn't a conscious factor in the creation of mine. My main motive was the musicians themselves. They are all virtuosos with a fantastic sense of ensemble -- in other words, terrific team players."

During its hour and a half set, the team served up a continually surprising pastiche of musical inventions. The set itself might well have borrowed the title, Shifting Sands, the only number that the quintet performed from its third album, Not for Nothin', released by ECM in August. (The lion's share of the performance came from the quintet's preceding Grammy-nominated album, Points of View.) So how exactly did the sands keep shifting? Like its McLean forbear, the Holland quintet peppered its themes and solos with unexpected rhythm and tempo shifts. Also like its predecessor, it used the vibraphone to create a spare harmonic bed that allowed the solo instruments to explore their melodic potential. (Unlike the piano, which in many hands can box in another soloist's melodic options, the vibraphone is like Raid to harmonic clutter -- with two mallets, you're limited to four notes at a crack, Holland observes.)

But the Holland quintet went way beyond that. Numbers opened with themes chased by secondary or even tertiary themes or motifs. There were evocations of African brass, Middle Eastern scales, and Dixie Land exhortations. Intermediate melodies, related to the opening themes and often incorporating two- and three-part harmonies, popped up unexpectedly as bridges that introduced solos or pointed toward their end. "Those bridge passages were legion among big bands but have been forgotten by most small ensembles. They might take a look back at Louis Armstrong." remarked Holland.

For the quintet, another preoccupation was contrapuntal writing, where two or more instruments played single note passages in tandem. Those passages introduced and connected themes and solos -- you never knew when they were going to turn up. And at times the contrapuntal overlays unzipped to reveal every manner of conversation among the instruments -- anything and everything from tęte-ŕ-tętes to raucous five-way neighborhood hoedowns and round robins.

That aspect of Holland's 2001 quintet revisits the spirit and letter of his first album, the 1972 classic, Conference of the Birds. "Manfred Eicher, (ECM's founder and producer) and I are about the same age. We became friends when he was starting the label," noted Holland. "He has encouraged me to document all my work with complete creative freedom. He's always let the music speak for itself." At the same time, the Munich based label has developed a strong market identity and first-rate international distribution for the recordings of its outstanding artists. In other words, you don't have to look hard to find Holland's CDs. That must have been a comfort to many among the Iron Horse audience, which greeted the quintet with a tumultuous standing ovation at the evening's end.