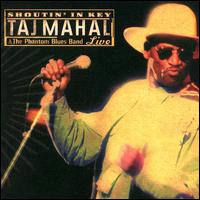 Two-thirds of the way through Taj Mahal's nearly two-hour set on November 14 at the Calvin Theatre, you couldn't help but notice a "psychic" shift in the hall. From then on, the intensifying surge of music, like some drop-in life force, took over completely, pushing into the background things like personal individuality and that old time audience-musician dichotomy. Reigning supreme was neither the band nor even Taj himself, but the super-octane music; everything else was mere background noise. For the concert's final thirty minutes, everyone in the house was on his feet-shaking to the max -- all the more remarkable considering that two-thirds of the faithful were aging boomers, more than a few of them orthopedically challenged.

It is Taj Mahal's astonishing gift to be the lightening rod -- the channeler, if you will -- through which some sort of preternatural musical superforce flows. Pioneer Valley folklorist Jeff Lee and I had gone down to the concert hoping to catch a whiff of Taj the archivist and Taj the country blues alchemist. Instead, we got the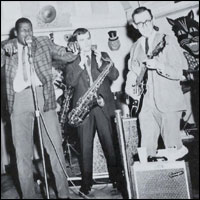 "electric show,"* propelled by the nine-piece Phantom Blues Band, featuring guitars, bass, drums, and keyboards, all lifted higher by trumpet, saxophone, and Taj himself. Sporting characteristic shades, wide-brimmed straw hat and his raspy baritone, Taj -- who grew up in Springfield, graduated from UMass, and was an apocryphal member of the folklore society -- frequently strutted and swayed about the stage peppering a tambourine or slapping a cowbell with his drumstick. (Less frequently he played guitar and harmonica.) "I know you're dying to get out of those chairs," he coaxed the audience before everyone did in fact opt for undulating variations of verticality. Taj and the band broke down audience resistance with salvo after salvo of straight-ahead uncluttered but virtuosic musicianship. Accelerating tempos and scarce down-time between numbers also fueled the frenetic build up.
And then there was the eclectic repertoire, affirming that Taj the archivist was indeed in the house. There were juiced-up country blues distillations like Taj's own Goin' to the Country and EZ Rider. Horn driven soul and funk classics like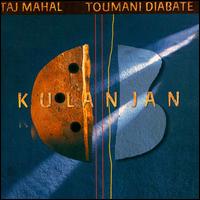 Curtis Mayfield's Stranger in My own Home Town, Hank Ballard's Hoochy Coochi Coo, and Banks and Parker's Ain't that a Lot of Love. And feel-good international concoctions, including Cape Verdean jazz great Horace Silver's Senior Blues and an unmistakably West African infused rendition of Queen Bee. "You all been watching that American Roots Music series on PBS? It's been wakin' folks up to where things come from," he noted in a rare prescriptive moment. Later in the show, Taj introduced his seventy-something-year-old stepfather, Hughan Williams, to the wildly enthusiastic audience. "He's why I play the guitar!" Taj proclaimed with Williams by his side. By the concert's end, Hughan William's stepson had uncorked a Methushelah of endorphins for the Calvin crowd. The event ended with Taj and the audience locked in a call-and-response duet that an outsider might have mistaken for nonsense syllables.
A half hour later, with the performance over and the energy level returning to some semblance of normalcy, we headed backstage for a rendezvous with Taj for some oral history about the early days of the folklore society. (In his day it was the Connecticut Valley Folklore Society.) Before chatting with us, the Springfield native talked farming with two well-wishers from his back pages: the first from the Langevin dairy farm in Palmer, where Taj had interned and worked during his high-school and UMass Stockbridge years; the second-another dairy farmer -- a fellow graduate from Taj's class at Westfield High. (Taj lived in Springfield but went to Westfield High for its agriculture program.) In the company of farmers, the avidly interested Mahal asked one question after another -- How were family and friends? How were the livestock and the local economy? Taj talked with passion and authority about field use and machinery; feed and soils. No doubt about it -- this famous guy was a hell of a lot more grounded than I was.
In Taj's dressing room, melting into a retinue of a dozen or so admirers (including his stepfather), we got a few answers to some questions of our own. Taj was not a founder of the folklore society, but was extremely active in an early wave of folk roots enthusiasts who galvanized the group. According to Taj, most members of the society back then were UMass students. (Taj entered UMass in the fall of 1960 and graduated with an associates degree in animal science in 1963.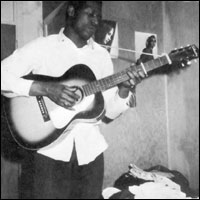 He minored in veterinary science and agronomy.) The society's hangout was the Saladin Coffee House, a privately owned, less than antiseptic rooming house that became the central meeting place of the campus folk and counterculture scene. "It was right in the middle of the campus [near the present-day Newman Center]; the coffee house was downstairs," Taj reminisced. "One of the roomers was a Korean opera tenor, who was always vocalizing upstairs. It was a very lively scene." So was Harvard Square and the legendary Club 47, both national Meccas for folkies that exerted an energizing pull on Taj and his UMass crowd. Did Taj remember the names of any of his folklore society accomplices? No problem. "There was Horace Waters, Tom Azarian, Andy Leader, Peter Gazark, John Tuttle, Bob Wolfong, David Beauvine, Bob Webber, Karen Burgess, and a guy we called "Scratch," Taj replied without missing a beat. "And Buffy [St. Marie] was big. She made her first album while still at UMass student." How could Taj-forty years later-roll out that litany so effortlessly? "That's easy, I remember them because I see folks as people," he emphasized.
Taj's reminiscences of growing up in Springfield were no less vivid. "I was the oldest sibling. My stepfather and mother (who held a master's degree in childhood ed) insisted that I set a positive example for my brothers and sisters by going to college. That's what we all did," observed Taj, his stepfather nodding in affirmation. (His stepfather, in fact, had been a good friend of Taj's father, Henry St. Claire Fredericks, Sr., who had died tragically in a machinery accident several years before. A jazz afficianado, intellectual of polymathic interests, and follower of Marcus Garvey and his pan-African ideals, Taj's father left his son with an almost compulsive longing for reconciliation with his deepest roots.
"During high school, I was an urban guy passionate about agriculture and country blues. The kids in my neighborhood whose families had just come up from the South [the last wave of the great postwar migration] couldn't believe it." Many of those families, he added, brought their music with them. "Next door, a guy my age played as good as Robert Johnson. Other guys up the street played fantastic Mississippi Delta. The blues tradition was always in the town. I'd hear Blind Lemon and Lightnin' Hopkins. I'd also hear West Indian music in my own home (My father was from St. Kitts and my stepfather was from Jamaica); and African music brought in by foreign students at AIC (American International College). Getting exposed to all those influences at that time -- that was like cosmic luck."
For Taj, listening was never enough. "My stepfather insisted that I focus on school and agriculture, not the guitar," he recalled. Then one day, while playing hide-and-seek as a teenager, Taj had an epiphany. "While hiding in a closet, I leaned back and felt the sensuous curve of polished wood -- It was my stepfather's guitar. From then on, I played it secretly in the basement. (Taj also co-opted his mother's combs as guitar picks, which he broke in great numbers.) "Of course, pops knew all along what was going on. One day when I was playing in the basement, the door suddenly opened. "Well, I see you found it," was his response. "That was all he ever said about it."
Taj's fast-lane rise to fame and fortune after UMass is well documented. After gigging around the folk club scene for a year and a half, he hooked up with Ry Cooder and several other musicians in Los Angeles to form the Rising Sons. In 1967, he signed a recording contract with Columbia Records, then the world's most powerful record company, whose artists included Dylan, Miles, Monk, and Leonard Bernstein. Thirty-eight albums and two grammys later (He currently records for the British label, Hannibal), Taj remains true to his prime directive -- a relentless search to discover his roots and incorporate them into his continuously evolving musicianship. In that pursuit, he has sought out and learned directly from country blues masters like Sleepy John Estes, Yank Rachel, and Mississsippi John Hurt. He has invested countless hours in archival research in the Library of Congress and in local archives. And in nearly forty years of touring, which includes visits to a great many counties in the United States, he has sought out the "live" music scene to discover local and regional styles and their history.
Most recently, his search for the deeper layers of his musical identity has brought him to Mali, where he has passionately embraced the millennium-old Mande musical tradition. It is a legacy of both refinement and soulfulness; of musical troubadors (yeli or griots), who perpetuate and enrich an oral tradition based on songs of courtly praise and connectedness with Mande ancestors and culture. In 1999, Taj joined forces with kora** master Toumani Diabate, and a handful of musicians from Mali to record Kulanjan, a seamless hybrid of Mande music and American acoustic blues that promptly won Folk Roots magazine's album of the year honors. Taj has written of his special affinity with the title song, a vehicle of praise for the mythic hunter, Kulanjan, who in the song reaffirms his mastery over conspiratorial animals. Perhaps with the effect of counterbalancing the disproportion of seven Malian musicians to one American on the cd, the recording did well to take place in Athens, Georgia, in a 1920s white clapboard house on a quiet hilly street.
In his recent autobiography, Taj Mahal: Autobiography of a Bluesman (Sanctuary Publishing), Taj explains the compelling attraction that drew him to the Kulanjan collaboration and West African music: "Whenever I heard music from Western Africa, it really got to me. I tried to hear where those sounds came from geographically. More and more sounds that I wanted to play came from Mali. The Mississippi sound that Skip James played, which is that long bulong-badung-dadung-dabebadong -- that dong, that note that goes long before he picks it up -- that is straight up Malian. It's exact."
Flash backward to the concert at the Calvin. Taj and the Phantom Blues Band have just begun playing Queen Bee. It is the evening's only West African-infused collaboration. I am floored by its powers of evocation. Taj's semisweet baritone skims over a bed of horns that eddies against currents of electric guitar riffs reminiscent of Ali Faka Toure. It is a river of sound-deep sixing time and space -- with the blues flowing into and intermingling with its African source waters. "Music out of Africa has always been . . . sort of family, to me. The source really was ancestors. I grew up with that idea," observed Taj Mahal in his autobiography, clearly reconnecting with a Garveyite inspiration of his late father. "One thing I feel bad about in the United States is the level of communication from generation to generation about the ancestors. You can't make it unless the people before you did what they did to get you where you are. Now you have to give something up to the universe for them, to them, about them. You have to bring them into your thoughts. The ancestors are so powerful that they can get around this so-called New World stuff and make the real connection."
Without question, Taj knows power and Taj knows humility.