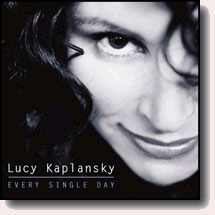 "It's got more hooks than my fly fishing box," was a friend's reaction to first hearing Lucy Kaplansky's newest and fourth CD, Every Single Day (Red House Records). When I voiced the same sentiments -- a bit less figuratively -- to Lucy, her response was decisive: "That's great. That's really good to hear." By every single account, Every Single Day appears to be a breakthrough album -- both aesthetically and commercially -- for the Manhattan-based singer songwriter. Released on September 11, the disk has captured kudos in review after review. And in spite of its inauspicious release date, it is selling at double the pace of its much admired predecessor, Ten Year Night. Like that album, Every Single Day features the stellar studio team of Larry Campbell (guitars, fiddle, mandolin, cittern); Duke Levine (electric guitar, mandola); John Herrington (electric slide); Zev Katz (bass); and Ben Wittman (drums, percussion, and the album's producer). Add to that splendid vocal assistance from Jennifer Kimball, Buddy Miller, John Gorka, and Richard Shindell.

"We were so pleased with the last album that we hired the same team. We had no intention of doing anything different," explained Kaplansky. Intentions aside, the current recording wields a far broader musical palette to greater commercial effect. It also draws on more covers -- four compared with the previous album's one. That decision gives Kaplansky the luxury of deploying the very best of her own material -- which, to these ears, is very strong indeed. So are the covers -- all first-rate contributions from the likes of Steve Earle, Irish folk-rocker Paul Brady, the late great Louvin brothers, and the immensely gifted Julie Miller. The Miller offerin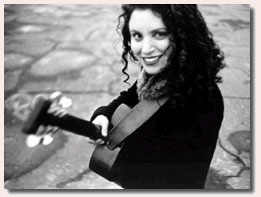 g, Broken Things, appears destined to achieve status as a modern-day standard. "When I've performed it in concert, the audience responses have been incredible," exults Kaplansky.
The CD's richer sound is unabashedly plugged-in, but that can be a good thing, as long as discriminating artists have total control over the proceedings. That is precisely what happened here. "We had more time in the studio and it paid off. The album is more sonically complex, with more musical layers and colors," Kaplansky emphasized. The arrangements, most of which evolved collaboratively in the studio among the band members, consistently navigate a judicious balance between emphasis and restraint. The band, which never gets in the way of Kaplansky's emotionally nuanced alto, lays down an uncluttered instrumental bed that allows her full expression in imparting basic narratives and explanations. For emotional ascents and climaxes, the musicians build in instrumental and vocal layerings, spiking the mix with occasional instrumental motifs that serve as additional hooks.
If you didn't understand a word of English, you'd still enjoy this album for its sonic semisweetness and emotional resonance. But Kaplansky's choice of thematic material keeps the CD moored to darker terrain. Her own contributions to the album (her husband, Richard Litvan, is her co-lyricist) explore physical/emotional abuse, betrayal, senility, self-destructiveness, and psychological isolation/withdrawal. You don't get much heavier than that. But the album never sinks under all that gravity for several good reasons. First, its sonic qualities bring buoyancy and momentum to many of the songs. Second, two of the album's tunes are in fact joyous affirmations of significant others -- Don't Mind Me, by Lucy (with a knockout background chorus vocal by Buddy Miller), and You're Still Standing There, by Steve Earle.
But perhaps most significant is the emotional alchemy conveyed by Kaplansky herself. A former P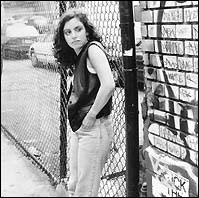 h.D.-trained practicing clinical psychologist, she brings empathy and grace to the darkness inhabited by her most unfortunate subjects. Without being preachy, she humanizes characters that the rest of us avoid -- like her victim of physical abuse in Written on the Back of His Hand and the withdrawn, emotionally burned-out street walker who inhabits Nowhere. (A precursor to Nowhere -- on her album, Cry, Cry, Cry, with Dar Williams and Richard Shindell -- was Kaplansky's touching vocal of the Ron Sexsmith song, Speaking to the Angel, in which a harmless street person talks frequently to an (equally harmless) angel.) In Nowhere, she psychically accompanies -- with extraordinary tenderness -- an emotionally hollowed-out soul trudging about lower Manhattan on a wind-chilled winter day.
While the city all around you
Becomes only paper thin
And the wind on your face is freezing
Someone else's skin
It's freezing someone else's skin, because his own, like every other molecule in his being, is off limits to sensation. A reminiscence from his back pages sharpens the focus of an already stark portrait.
Long ago in your room
Pretended you were far away
Then you looked into your mother's eyes
Saw no one was reflected there
Kaplansky knows she can't fix the situation, but she can empathize -- the subtext of the song's chorus.
I know what it's like to be nowhere
I know what it's like
I know what it's like to be nowhere
Nowhere
Later in the song, she goes one step further, tossing out a life line-albeit a reminiscence of abuse
. . .written on your body
You know them all by heart

Carved underneath your sweater
So you'll always remember
At least they're something to hold on to
Hold onto
"That was my husband's idea," explained Kaplansky. "For both of us, working through that song was exhilarating."
Kaplansky may excel in songs of empathy, but she can write an insightful song of blame as well. On the album, Guilty as Sin and No More Excuses train lenses of objectivity and approbation on two guys ---the first, a lightweight two-timer; the second, an all-purpose jerk. In each tune, Kaplansky metes out responsibility and vents indignation, but never gets consumed by it. The CD's title track, in contrast, reveals the songwriter in a spirit that combines disappointment, empathy, and perhaps revulsion. It's about a musician friend on the emotional skids.
You were sitting by yourself
When I came to say hello
Loading up on cigarettes
And drinks before the show

By the time you hit the stage
You were tearing at the seams
I could have told you you'd had enough
But you weren't listening

Every single day
Takes a piece of you away
Every single day
It all suggests that Kaplansky, given her background and integrity, might well be a source of strength for fellow artists in a business that is frequently harsh and personally disruptive. Who's going to write the ballad about the ex-therapist singer-songwriter who needs to build self-protective personal boundaries while still being there for her friends every single day?