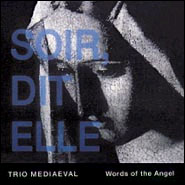 At long last, Anonymous 4 has worthy company in its paradisaical circle of womenís a cappella Early Music. The new sopranos on the block are three Norwegians who call themselves Trio Mediaeval. Their first album, Words of the Angel (ECM), has been out for several months in Europe and was just released here in February. Critical responses to the cd and to the trioís concerts have been wildly enthusiastic. Gramophone named it among its top ten choices in January, musing that it just might be a cult disc in the making. If so, it will follow in the sonorous footsteps of Anonymous 4ís own recording debut, An English Ladymass, which has sold over 221,000 copies since its release in 1992.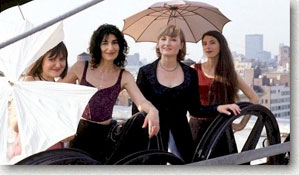 Ladymass, Anonymous 4ís Susan Hellauer told me 2 Ĺ years ago after a performance at the Sterling Clark Institute in Williamstown, was a spin on the wheel of fortune that rocketed the group almost overnight to Early Music stardom. (Since then, Hellauer & Co. have sold over a million cds and played more churches worldwide than probably anyone save the pope.) The performance that I heard that day in Williamstown was one of the groupís minority forays into secular music--a collection of love songs by the great 14th century blind Florentine composer, Francesco Landini. Anonymous 4 calls the collection, The Second Circle, in honor of that passionate region of the Inferno inhabited by Paolo, Francesca, and a cast of thousands (and then some). Last fall, Harmonia Mundi finally released the cd version of The Second Circle, which became an immediate commercial success.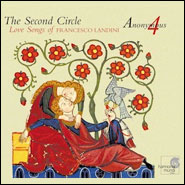 So what do Anonymous 4 and Trio Mediaeval have in common? Both sing with extraordinary beauty, balance, delicacy of inflection, and an uncanny feel for internal rhythms. Both focus primarily on sacred repertoire from the late medieval/early renaissance world (usually the 13th and 14th centuries). And both bestow a womenís gloss on material that with few exceptions (e.g., A4ís involvement with Hildegard) was written by men for male voices.
With Valentineís Day a convenient eleven months away, it is perhaps safe to recommend The Second Circle as a low-risk gift alternative to flowers and chocolate. The disc offers seventeen jewel-like ballata, composed by Landini for two and three voices. Anonymous 4 adds a fourth voice to eight of the songs. The economy of the ballata and their stanza form-A-b-b-a-A-is the soul of Early Renaissance conciseness. The tracks on the disc range from 1:16 to 5:43 minutes, all but six clocking in at under four minutes. Landiniís love songs convey a daunting emotional range: on the sunny side, they contemplate loveís joy, loveís angelic beauty, loveís perfection. But be forewarned--darkness was also Landiniís delight. For Anonymous 4, that means conveying beautiful, at times, burnished harmonies about love unattainable, love unrequited, love unconsummated, and love lost. So who said eros, courtly love, and their variations were any more a cake walk in 13th century Florence?
That leads to a concern about Anonymous 4ís take on Landini. The groupís performances of sacred music radiate a contemplative--at times, oracular-- beauty. Anonymous 4ís Landini exudes the secular analog--the restraint and formality, musically speaking, of courtly love. How does that square with Landiniís own multi-faceted emotionality? In my view, this doesnít need to be an issue. With prismatic richness, Anonymous 4 refracts Landiniís variegated emotionality on the groupís own lapidary terms. These are performances of ravishing beauty and coloristic and rhythmic subtlety. All the same, there is certainly room for interpretations by others who bring an earthier emotional resonance to the songs.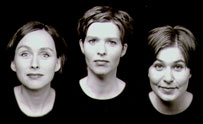 Trio Mediaeval would no doubt fit that bill. Like Anonymous 4, The new groupís harmonies can soar and swoop with ethereal luminosity and grace. But in their flights of entwinement, uncoupling, and untripling, the Norwegians reveal more of their individual vocal personalities than their mentors--the Hilliard Ensemble--or Anonymous 4. That includes some less than perfectly tempered polyphonic edges (no doubt anathema to the Hilliard and A4) as well as a predilection for camping on tones via rubato and other vocal devices. But itís all calculated for aesthetic and emotional effect and for this reviewer, itís risk taking that yields repeated satisfaction. Trio Mediaeval astonishes both with its extraordinary emotional range and its deft navigation of that range: the threesome can transition on a dime from emotional street level right up to the celestial sky roof.
Words of the Angel, like Anonymous 4ís An English Ladymass, features a 13th -14th century mass interspersed with Marist motets, sequences, and chants from the same period. Surviving in a cathedral manuscript from the once powerful mediaeval city of Tournai (just northeast of Lille, France, over the Belgian border), the Tournai Mass appears to be a compilation. The Kyrie, Sanctus, and Agnus Dei employ a conventional 13th century modal rhythm; the Gloria, Credo, and Ita Missa Est display 14th century Ars Nova innovations, including freer rhythms and triadic harmonies. Interspersed with the mass are nine vividly polyphonic motets and sequences from 14th century England, and four monophonic (chants) laude from a thirteenth century manuscript from Cortona, in central Tuscany.
Three of the English pieces survived only by accident. In the medieval world--especially in England-musical manuscripts often got recycled (sometimes in bookbinding) after falling prey to wars, secular and church politics, and shifting musical fashions. The three survivors here somehow got copied onto the back of a financial record, which accountants thought warranted eternal salvation (Today, the so-called Berkeley Castle Select Roll 55 might have gone the way of the Enron Financial Codex-straight into the shredder.)
Through 14th century eyes, the one time-warper in the program is the cdís title track, Words of the Angel, written by the present-day London-born composer, Ivan Moody. Like his former teacher, John Tavener, Moody has found religious affiliation and musical inspiration in the Greek Orthodox church. Taken from the Orthodox Easter day liturgy, Words is a tour de force of sinuous chant and unadorned contrapuntal statements, alternating with a broad and occasionally dissonant brush of soaring and cascading polyphonies. After that stunning 5:27-minute performance, there is nothing to do but adjourn the disc with the Tournaiís Ita Missa Est (i.e., Go, it is dismissed.)
During my conversation with Susan Hellauer, I asked her if she knew of any other Early Music womenís groups doing similar repertoire to Anonymous 4ís. Together, we came up with only one, Tapestry, an American quartet that records for Telarc. I told her that I admired its ambitious repertoire but felt that its balance and tonal purity were not in Anonymous 4ís league. At long last, Ms. Hellauer and Anonymous 4, with the emergence of Trio Mediaeval, are in good company. With this troika, three is anything but a crowd.
Also Recommended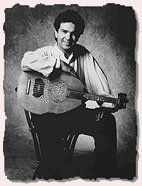 For over a decade, Munich-based Lebanese oudist Rabih Abou-Khalil has been the driving force behind the worldís most successful hybrid of Arabic music and modern jazz. Charlie Mariano, Glen Velez, Howard Levy, Sonny Fortune, Ellery Eskelin, Antonio Hart, and Steve Swallow have been among the Americans over the years who have joined forces with Abou-Khalil and a cast of outstanding musicians from Europe and the Middle East. With an ensemble of twelve, Abou-Khalilís latest album, The Cactus of Knowledge, features the largest instrumental forces by far of any of his previous outings for the Munich based label, Enja. In the up-tempo tracks like Got to Go Home, Maltese Chicken Farm, and Ma Muse MíAmuse, the added brass pushes the intensity level almost through the roof. The cd also offers its share of contemplative, sometimes smoldering moments, featuring inventive solos from the cello, French horn, and Abou-Khalilís masterful oud playing. Particularly notable is the recording balance and clear definition of each instrument in ensemble. Considering the ascendancy these days of the military march, one can almost wax nostalgic for the cdís inspired opening track title, The Lewinsky March.

Last year, with lavish American roots boxed sets all the rage, there was no better deal on the market than Cambridge-based Rounder Recordsí Roots Music: An American Journey. For under thirty dollars, you get four discs with sixty-eight tracks that cover bluegrass to zydeco; acoustic blues to Tex-Mex conjunto; and everything in between. All of it is from the Rounder vaults: the Smithsonian and Library of Congress aside-Rounder is Americaís premier living folk archive. The set features higher-profile artists like Buckwheat Zydeco, Tish Hinajosa, Natalie MacMaster, Sweet Honey in the Rock, and, of course, Alison Krauss. And how about dozens of less familiar artists like Preacher Jack, Tuts Washington, the Tarbox Ramblers? Thereís room for everyone with musical integrity and talent under the Rounder umbrella. To date, Rounder has sold 3,000,000 copies of Alison Kraussí Now That Iíve Found You. Had she thrown in her lot with corporate labeldom, she could have sold many more, but sheís chosen to stay with the genuine article. Roots Music: An American Journey is perhaps the best one-stop reflection of that article within our reach.