Two recent folk concerts in Northampton underscored the magic of better music through chemistry between gifted musicians. On April 17, Yorkshire folk songstress Kate Rusby and her multi-instrumentalist husband, John McCusker (also of the Battlefield Band), enthralled a sell-out audience at the Iron Horse. A week before, the up-and-coming Portland, Oregan based duo, Dave Carter and Tracy Grammer, were equally disarming before a coffeehouse audience at Smith College.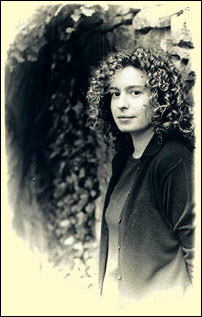 "That dying thing is going to be a frequent theme tonight," warned Kate Rusby at the Iron Horse on the heels of her opening number, The Cobbler's Daughter. The ballad is a hard-luck tale of a young lad who having charmed his way into the daughter's bedroom, meets up with the cobbler, and far worse—the cobbler's wife—who efficiently dispatches the youth with her broom stick. "Actually, much of our material is really depressing; that's why we never smile on posters," Rusby continued. No false advertising there: Rusby's predominantly rueful music and her sweet-and-sour countenance on placards and cds deliver the goods on melancholy without fail. Love relationships lost, irreversible separation, and treacherous fate—all are grist for this Yorkshire folk traditionalist's musical mill. If darkness was indeed John Dowland's delight, then Kate Rusby is a rightful 21st century musical heir. Why then did the sell-out audience at the Iron Horse have such a bonnie time on the night of April 17?
One conspicuous factor was the virtuosic contribution of Rusby's musical and marital partner, John McCusker. (Both are remarkably still ensconced in their twenties.) On fiddle, whistles, and cittern, the erstwhile wunderkind of Scotland's Battlefield Band upped the energy level of performance at every turn. In every accompa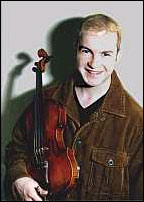 niment and solo, the affable, still boyish McCusker wielded masterful tonal definition, rhythmic intensity, and improvisational ingenuity. The third contributor, on diatonic accordion, was Andy Cutting, who laid down an unflinching rhythmic bed that complemented the others.
Also keeping despair at bay was Rusby's witty, frequently uproarious schtick—and the comedic volleys between her and McCusker, occasionally punctuated by a random verbal discharge from Cutting. The Iron Horse audience learned about the pros and cons of Scottish versus Yorkshire accents ["Do you understand a single word that Kate says?" chimed in McCusker with Scottish pluck], the couple's kitschy Christmas exchanges, the importance of changing the name of a song's protagonist from Willy to the less phallic, Billy, and Andy Cutting's indispensable egg plant recipe.
There were also several upbeat songs, including The Jolly Plowboys and Canan's Land—an American spiritual that Kate learned growing up with her folk musician parents. In addition, an instrumental triptych written by John and performed by him and Andy included the sprightly jig, Pur the Orangutan. But in the main, melancholy prevailed through disarming songs of separation and despair, including Richard Thompson's Withered and Died, and Kate's Botany Bay, Let the Cold Wind Blow, and Who Will Sing Me Lullabies?—all except Botany from Kate's splendid third and current album, Little Lights (Compass Records) .
Botany Bay and Let the Cold Wind Blow are eclectic takes on irreversible separation. The first involves the 18th century British practice of sending convicts halfway around the world to Australia—with the overwhelming prospect of the deportees never again seeing their families. The second takes the point of view of a despairing ghost who doesn't like to watch—in this case, his love who has taken up with another man, who has inherited the deceased's land to boot. Mahler couldn't have done a better job of driving eternity between a man and his beloved.
Rusby has a distinctive voice and she knows how to use it. She punctuates a stiff-upper-lip evenness of exposition with well-placed hooks of dynamic intensity and vocal sweetness. Her upper register possesses a five- or six-note sweet-spot that she strategically invokes to bring added poignancy to her songs. She reminds me of a songbird, many of my friends have concluded independently. To find out which one, I played tracks from Little Lights for James Mallet, a friend and serious birder, who often plans his vacations around avian pursuits. "She's definitely in the warbler range—wait a minute, I've got it—a vireo—she's got vireo tendencies," he insisted.
Following an impassioned standing ovation, Rusby and McCusker returned for an encore that turned out to be the saddest song of the evening. Who Will Sing Me Lullabies? is Kate's lament honoring Davy Steele, the ebullient vocalist and song writer who graced the Battlefield Band before his recent death from brain cancer at age 53.
So lay me down gently, oh lay me down low,
I fear I am broken and won't mend, I know.
One thing I ask when the stars light the skies,
Who now will sing me lullabies?
Oh who now will sing me lullabies?
Bonnie kudos again to Kate and John for an intensely joyful evening. May they return to Northampton early and often.

Alchemy rather than chemistry best describes the musical marriage between the Portland, Oregon based duo of Dave Carter and Tracy Grammer. The Signature Sounds recording artists were in town on April 11th at Smith College's Davis Center coffee house for the first stop on their Spring concert tour. ( Several days later, Carter and Grammer wowed a much larger audience in Shelburne Falls under the aegis of Gayle Olson's terrific 2nd Sunday Concerts series.) Most songwriters create lyrics that smuggle in poetic elements; Carter is a bona fide poet in the service of song. (Not so most poets; they typically write to be recited or read, which explains why their cadences and soundscapes often prove singer-unfriendly.) Although his guitar playing and vocal harmonies with Grammer are seamless, Carter's top-of-the palette solo vocals are unremarkable, especially in view of his extraordinary songwriting. Enter Tracy Gramm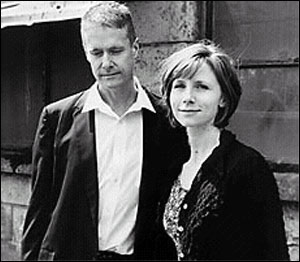 er, who graces his songs with an emotionally nuanced, precisely placed alto. That same musicality characterizes her expressive, incisive fiddle playing, which occasionally pushes the envelope with calculated staccato flourishes and tonal and dynamic risk taking.
Carter's crowded cadences can skewer images, like folk kabob, across time and space. In Ordinary Town, a highlight at Smith College and on Drum Hat Buddha, the duo's latest album, images of small town America time-warp with those of turn-of-the-first-century Jerusalem, where the prophet stands alone. . . and we crucify our own. In other songs, Carter, who shares an aesthetic kinship with 19th century Arts & Crafts movement founder William Morris, proves equally at home with imagery from nature, medieval Western Europe, the American West, and assorted mythical-spiritual traditions. Much of his work resonates with the electric vividness of a tarot card—evocations from a magical realm of hypercharged images connected by their own allegoric and internal metaphoric logic. "Most of my songs come to me in dreams," Carter confessed to his Smith College audience. "I believe," he added, "that [underneath it all] things are arranged in a meaningful way."
During their hour-plus appearance at Smith, the duo performed repertoire from their three albums, and unveiled a new song about love and doubt—a manifestation, noted Carter, of the dark goddess, Aphrodite. Carter and Grammer offered up four songs from their second album, Tanglewood Tree, including the rueful, poignant ballad that is its title track. They also uncorked several others from the recently re-released first album, When I Go. The latter, recorded in Tracy's kitchen in 1997, is now repackaged for national distribution by Signature Sounds. The rest of the evening conveyed the pleasures of Drum Hat Buddha, a brilliant synthesis in the couple's evolving partnership and one of the crowning achievements in the growing Signature Sounds catalog.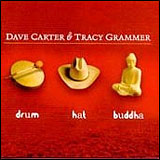 It is the first of their albums where the music is as consistently inventive as are the words—a tall order considering Carter's gift with language.
"I wrote I Go like the Raven after Tracy appeared in a dream as a threatening Tibetan goddess," explained Carter when introducing that supercharged offering from the new album. Seizing Raven's bat-out-of-hell musical vectors, Grammer proved herself a worthy exponent of the devil's instrument. A second up-tempo offering, 236-6132—this time with Grammer on mandolin—might have well been the most harmonically feel-good song of the evening (and of Drum Hat Buddha), but offered no respite from Carter's metaphorically prolific muse.
236-6132 is the number I must call
when casey's at the bat, and sleeping beauty slumbers. . .
on the icy nails of no return
we will strike the match and set the night to burn,
cause when beauty wakes anew and when casey cracks the ball
236-6132 is the only number
The tune is so infectious that you don't need the words, but if you want the whole (love) story, be prepared to pay dues as a more active listener.
"Richard Shindell (Signature Sounds' leading recording artist) and I talked about co-writing some songs; that's something I'd love to do," Carter told me after the show. In recent months Shindell, Carter and Grammer have toured extensively with Joan Baez in a knock-out three-act show. A songwriting collaboration between Shindell with his less-is-more lyrics and Carter with his standing-room-only verbal cadences strikes me as so contradictory that it just might work. Until then, we should be thankful for the artful alchemy that is already in place: Carter and Grammer are an American original and a testament to better music making through chemistry.