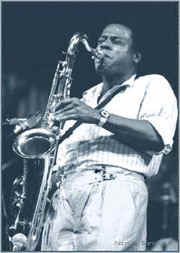 "This is the dream, the musical connection that I have been waiting for," insisted jazz piano virtuoso, Danilo Perez in a telephone interview in late May. The 35-year-old Panamanian, who teaches at the New England Conservatory in Boston, was exulting in his symbiotic role in the rapidly evolving Wayne Shorter Quartet. With the luxury of hindsight, it's a truism to say that we always knew that the great saxophonist had this level of music making within him. But given his quixotic career, it's more honest to say that Shorter's reemergence through his new quartet, like the music that it generates, has defied facile anticipation.

In late May, Verve Records released the quartet's first recording, Footprints Live. On June 8th , I was at the Bushnell Auditorium in Hartford to witness the group on the second leg of a summer tour that includes twenty dates in North America, Europe, and Japan. (The quartet has similar bookings for next spring.) So far, this listener has been floored. I keep asking myself, "Will this quartet prove one of the musical experiences of my listening career?" Danilo Perez is similarly awe-struck: "I am blessed to be a member of this family.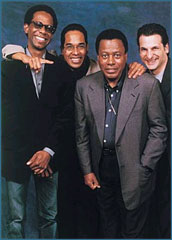 Increasingly, we are tapping into a place where creativity happens, without the preconceptions that typically inhibit it. I have put my trio work completely on hold," he confessed. Ditto for extracurricular musical activities by the quartet's bassist, John Pattitucci, and its drummer, Brian Blade.
At the Bushnell's Belding Theatre, the quartet played for about eighty minutes—all extended improvisations inspired by thematic material distilled from five or six Shorter compositions of varying discernability. They ranged from a nearly complete rendering of Footprints in the concert's encore to a ten-note thematic splash from Masqualero.
The concert's segments, which also included Shorter's Sanctuary, Atlantis, and his recasting of Grieg's Valse Triste, ranged from twelve to twenty minutes. In contrast, the eight offerings on the new cd, which includes the same material plus several other Shorter tunes (JuJu,Go, and Aung San Suu Kyi) run from five to 10½ minutes. But both the concert and the cd, which collects live European performances from a summer ago, shared an overriding strategic purpose: to deploy thematic material in drilling down to a musical bedrock where all manner of creativity seems possible.
What is so special about this ensemble? Clearly, the collective interplay among its members borders on the telepathic. Any of the players can introduce a new musical idea and receive an instant, validating response from the other three. And with uncanny frequency, many musical statements emerge in unison. But other great ensembles have possessed similar musical radar. It's the quality of its improvisation—improvisation, I believe, that frequently bears the mark of composition—that sets this present group apart. "Composing is improvisation slowed down," Shorter told The Saxophone Journal in 1992. The quartet appears to operate from an accelerated state of concentration—a stillpoint in the eye of creation—that collapses time and blurs the distinction between improvisation and composition. To mix a metaphor from biology, the band improvises at close to musical stem-cell level, where musical motifs and fragments exert a stickiness on related musical ideas with often surprising, nonlinear correspondences.
In closing the gap between improvisation and composition, the quartet's every note (and rest) gains greater integrity with the musical architecture of the whole. Without the editorial luxury of formal composition, the group still manages to concoct phrase after phrase that challenges you to ask, How could it be any other way? Plus, you get the excitement and spontaneity of witnessing creativity on the spot. (Classical performers often strive to capture a similar freshness by attempting as they play to rediscover the logic—both intellectual and emotional—of a composition's unfurling stream of ideas.)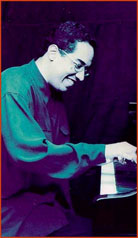 "We are increasingly operating from a place that is beyond music. We're climbing a big mountain. It's the challenge of creation," Perez insisted. The rhythm section consistently rises to that challenge. On several occasions at the Belding, Pattitucci, age 42, galvanized the others, who had been exploring intensifying lyrical passages, into accelerated vamps and Latin motifs. At other bright moments, Blade, 31, interjected with rhythmic textures and accents that spun the proceedings into similarly unanticipated directions. But the cornerstone of the quartet is the fascinating, deepening musical relationship between Shorter and Perez. Both thrive on a chromatically polyglot fluency, jagged rhythmic passages, and abiding, gorgeous lyricism. And both can transmute chromatic and rhythmic angularity into ravishing beauty on a dime.
From the audience's vantage, the quartet lines up with Perez on the far left and the sprite-like Shorter (How can this puckish presence be just a shade under 68?) on the right side of the piano, in about a forty degree angle to the piano's bend. Pattitucci and then Blade position themselves several feet behind and to the right of Shorter. Shorter's physical proximity to Perez underscores the intimacy of their musical relationship. To listen to the two is to hear the exchange of ideas between composers. If Wayne Shorter were a boxer, he would be a counter-puncher. As a musician, he might just be the most active, vigilant listener in the house. The mercurial Perez never lets him down, generating a wellspring of melodic and rhythmic themes, motifs, and variations. His frequent pianistic calls to conversation with the other players are just what that saxophonist ordered: And Shorter consistently returns the compliment by upping the creative ante. Several times during the exchanges in Hartford a trip wire flipped with Shorter unleashing torrents of virtuoso comping that took one's breath away.
In his career, Shorter has had extraordinary musical relationships with two other pianists—Joe Zawinul and Herbie Hancock. His fifteen years with Zawinul and Weather Report may have spawned history's best fusion band, but it left many listeners puzzled whether they would ever again hear Shorter at his improvisational peak. His long association with Herbie Hancock began with Miles Davis' second great 1960s quintet and has continued sporadically over the years. In 1997, that relationship resumed in full force in 1x1, an album of ravishing piano-soprano sax duets that had everything going for it save rhythmic propulsion. Hancock will also appear on a Shorter album for large forces (including the present quartet) to be released next year. Listeners fortunate enough to have heard Shorter on a good night with Miles in the 1960s came to appreciate him as one of the three great post-Parker saxophonists (along with Coltrane and Rollins). Further conclusive evidence is to be found on Columbia's eight-disk Live at the Plugged Nickel box, where Shorter, stretching out in 8-12 minute solos, puts on an improvisational clinic that stands with the greatest recorded performances in the saxophone canon.*
Perez is such a musical extrovert and self-starter that it's not unreasonable to ask who's actually in charge here. "Are you kidding?" he remarked. "Wayne is the leader here. Wayne put the group together. And it's Wayne who defines the group's operating culture." If those parameters give band members the no-strings freedom to take personal initiative and musical risks—to lead their band mates, if you will—then credit Shorter for a counterintuitive but sagacious leadership style.
So where has the Masqualero been all these years? Because Shorter's natural inclination is to blend chameleon-like with his collaborators, his choice of musical partners is critical. "Everyone makes certain causes and effects, and a lot of them are delayed—it's what we call karmic benefit, you dig? The effect could come out immediately or a week later or ten years from now," Shorter told Ashley Kahn in the June issue of JazzTimes. That was Shorter, the Buddhist, talking. In 1996, his wife of 26 years and beloved niece were on TWA Flight 800 when it went down off Long Island. Shorter entered a period of intense soul searching and reflection through the Buddhist lens. (Hancock and Shorter are both practicing members of the Soka Gakkai Buddhist sect.) Shorter emerged from the crisis with a renewed sense of purpose and commitment. (He has since remarried and moved from Los Angles to Miami.) "Wayne is in a new phase of his life," emphasized Perez. "He is truly enjoying the process of discovery through the quartet. He is an inspiration to us all."
The concert's finale couldn't have contrasted more from its opening moments. At showtime, the players had ambled out on stage and then waded into their opener, Sanctuary, deliberately testing the waters and feeling their way into the deep zone of their distinctive musical group consciousness. Several minutes into Sanctuary, they were in the zone for keeps. Eighty minutes later, following a second standing ovation, the four returned with their encore, Footsteps. This time, the group took about ten seconds to reclaim the zone. It was a shift not in degree but in kind, as the four musicians transformed themselves into a unified field with direct lines to something greater than themselves, something ineffably creative.