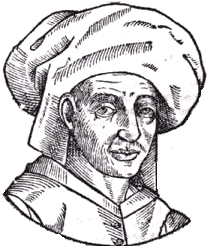 The life of Josquin Des Prez (c. 1455-1521)—considered by many to be the greatest composer of the Renaissance—has evoked more than its share of musicological mysteries. Until a decade ago, researchers, confusing him with a Milanese chorister, had his nativity pegged fifteen years off at 1440 instead of the currently accepted c. 1455. Far more difficult to resolve has been the precise chronology and assignment to patrons of his prolific output—roughly 18 masses, 50 motets, and 75 chansons and other secular material. We do know for sure that Josquin spent the last seventeen years of his life (1504-1521) with job security in Conde-sur-l'Escaut, just southeast of Lille on the French-Belgian border (and in the presumed vicinity of his place of birth). Before that, from the late 1470s on, he did tours of compositional duty for the Duke of Anjou, the King of France, the Sforzas in Milan, the Papal Chapel in Rome, and Ercole d'Este in Ferrara (among others.) We can assign most of his work with confidence to the Conde-sur-l'Escaut or pre-Conde-sur-l'Escaut periods. But reaching for greater accuracy before 1504 often requires educated guesswork.

Even more perplexing is a modern day puzzlement. How can it be that a musician in Bach and Mozart's company—that's right, Bach and Mozart!—receive such short shrift on disc? Only ten of Josquin's eighteen masses have entries in the latest Schwann catalogue; the most recorded are the early Missa L'ami Baudichon and the towering final mass, Missa Pange Lingua, with five and four cds a piece. Two recent Josquin recordings on the ASV label by the immensely talented London-based Clerks' Group make a compelling case for Josquin's rightful place alongside Johann and Wolfgang. Each recording features a mass as its centerpiece. The first disc (CD GAU 220), released in the US in the fall of 2001, highlights the Missa Fortuna Desperata; the second (CD GAU 302), released last spring, features the Missa Faisant Regretz. Both predate Josquin's late period, but reveal the composer at his full powers. In both, Josquin's persistent melodic, polyphonic, and rhythmic inventiveness and their uncanny "fit" in vivid musical tapestries evoke nonstop wonder.

The two masses are as different from each other as they are individually eclectic. Both borrow their central motifs from secular art songs of the day. The chanson Fortuna Desperata enjoyed wide currency from Italy north to Flanders and probably Britain as well. The Fortuna Desperata melody, frequently conv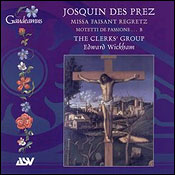 eyed by different voice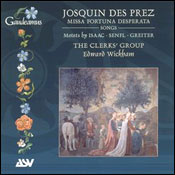 s and voice combinations, resurfaces throughout the mass in unsuspecting, refreshing ways. The Missa Faisant Regretz borrows a four-note motif from the chanson, Tout a par Moy, by Josquin's English near-contemporary, Walter Frye (d. 1475). Ingeniously recycled throughout the mass, the kinetic motif (which jazz musicians might consider analogous to a riff), often imbues the mass with a sense of movement that is long on invention but short on the psychological resting places that accompany the reiteration of sustained melodies.
In their account of these great works, the Clerks—eight mixed a cappella voices led by the baritone Edward Wickham—set the performance bar blissfully high. Their tonal, rhythmic, and dynamic balance consistently exude organic plasticity, devoid of mechanistic traces. They also bring an unstuffy spontaneity to the music and take unselfconscious joy in its beauty. "Interpretations are always changing, and each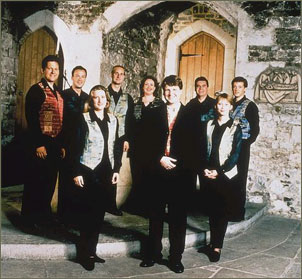 performance is necessarily different," observed Edward Wickham via email. "Our practice of performing from manuscript notation, in which not all information is given, has in particular encouraged us to be much more free with the musical text."
Whatever their methods, the Clerks have produced a wealth of exceptional moments in the two masses. In the Missa Fortuna Desperata, passages in the Clerks' credo frequently defy gravity as the seven voices intertwine and separate in a musical floating world. And, inspired by the Missa Faisant Regretz' jagged (ultimately descending) motif, they imbue the Gloria with seamless shifts in vocal speed and dynamic tension and release.
In the early Renaissance of Ockeghem, Josquin, and Obrecht, "the most interesting compositional innovations were happening in the mass," emphasized Wickham. These recordings make that clear but they offer a great deal more. Listeners gain a musical compass for each mass as-immediately preceeding—the Clerks lay down moving performances of the respective Desperata and Tout a par Moy (i.e., Regretz) chansons. The Desperata disc also offers a fantastic study in musical-cultural diffusion. Following the mass, the disc serves up four tracks that illustrate the Desperata theme in very different German and Italian song and song-fragment settings (including an Italian song-skit and an influential contribution by Henrich Issac c. [1450-1517]). The Faisant Regretz disc takes a different approach. With the exception of the Frye chanson, it's entirely devoted to Josquin. Besides the mass, there are five inventive motets—all from Ottaviano Petrucci's 1503 collection, Motetti de Passione. . .B . In case you missed it, 2001 was the 500th anniversary of the first (revolutionary) settings of music notation in movable type. In this, Petrucci was the great innovator and disseminator, and the Clerks' Group honors him with insight and passion.
Listeners who view classical music from a distance might be surprised to learn that the genre sports more than its share of divisiveness and tribalism. Many mainstream classical listeners devote as little time to Early Music as they do to 20th century serialism. "In fundamental ways, Bach was part of our own musical era. Not Josquin and his associates. They inhabited a foreign musical world from our own," insists a neighbor of mine who composes electronic music. Listening to Josquin, I believe, demands that you view the horizontal forward movement of the melody and the shifting vertical layering of the voices as equal partners. But the vertical polyphonic complexities can prove so beguiling that you can easily lose your way. So follow the horizontal linear skein and the vertical layering will emerge with vivid nonlinear complementarity.
What's next for the Clerks' Group? This fall, ASV will release the ensemble's third Josquin collection, comprising Missa Malheur Me Bat and various chansons and motets. After that, there will be a cd of Missa Sancta Cruce and other works by Josquin's contemporary, Pierre de la Rue. Sometime in the near future, notes Wickham, ASV will collect the group's entire Ockeghem mass cycle (During the 1990s the group became almost synonymous with Josquin's great predecessor through their complete recorded traversal of his masses.) The 12-disk box will include a CD ROM containing video and other material. Direct your orisons to your local libraries.
Will the Clerks do for Josquin what they did for Ockeghem? Wickham isn't telling, but considering their successes to date, that project would have its share of advocates. Besides, realizing the planet's first complete recorded Josquin mass cycle must exert some sort of moral imperative. Remember, Schwann lists no recordings for more than half of Josquin's twenty-one masses. (The only other musically worthy recording of the Desperata mass that I know of is a 1978 out-of-print version by Joel Cohen and his Boston Camarata.) So let's hope and pray that ASV will consider the Clerks' first troika of Josquin disks as successful test marketing. And for extra credit how many recordings of Vivaldi's Gloria in D for Chamber Orchestra and Chorus grace the current Schwann? The magic number is nineteen--one more than Josquin's entire output of masses!