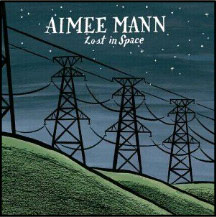 Several years back, I couldn't get enough of Aimee Mann's watershed CD, Bachelor Number 2. Had it been released during the vinyl era, my needle would have plowed it into oblivion. Bachelor was exceptional on several grounds. It was sonically thrilling. Inventive, often sonorous melodies dovetailed into a neo-Abbey Road guitar-electric-piano-bass-drum aesthetic that combined considerable textural and dynamic ensemble and nuance—all with a rhythmic edge. Aimee's lyrics were never short on wit, word play, and inventive imagery. With all those assets, Bachelor's one conspicuous liability loomed all the more puzzling: Why marshal all of that artistry in song after song about a jerk? (a.k.a. bachelor #2). It just didn't make sense. Until, that is, the release in August of Aimee's current cd, Lost in Space.

If the present CD could talk and had the naivety to ask, "How am I different?," even the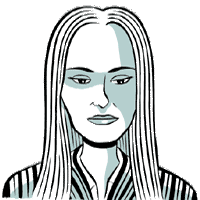 likes of Pavlov's Dog might respond: "You're about Aimee. . . now hand over my filet mignon; ring, ring, arf, arf." Aimee Mann , as every cut on her new album underscores, is far heavier company than bachelor number two (or any number of bachelors). He always did seem a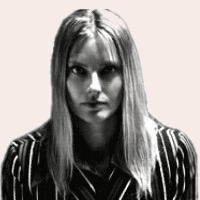 cardboard cutout to me, but for Ms. Mann he must have been at the time a necessary smokescreen. (An even greater diversion: Her epochal struggle and ultimate manumission from the record industry plantation. Aimee Mann has emerged with crucial artistic freedom, and role model status for musicians desperately seeking the same.) Now, presumably by personal necessity, Aimee, in Lost in Space, has become the subject of her own confessional art—and it's an art of uncommon resonance and power, a Janus-faced art that is both intensely musical and intensely disturbing.
"Get out while you can; I'm pouring quicksand," she warns in track number one. Chances are, you'll blow right past that early warning system to learn more about Ms. Mann and her addictive bonding behaviors—all cosmetic quick fixes that mask her underlying problem: her futile search for a psychic center—she's lost in space.
Ask yourself. Could you possibly succumb to these jaded come-ons?:
"Let me be your heroin; hate the sinner but love the sin . . ." [High on Sunday 51]
"So come on let's go-ready or not; cause there's a flame I know that's hotter than hot; and with a fuse that's so incredibly shot away" [The Moth]
And my own personal favorite:
"Kiss me like a drug; like a respirator" [It's Not]
"Buyer beware," warns Aimee Mann. "Guys like me, we look good at the gate . . .looking warm but feeling chilly You'll describe us as impassioned when it's just a front we've fashioned."
A front that masks a divided, sometimes etherized sense of self. It's all in the songs:
"Say you were split, You were split in fragments
And none of the pieces would talk to you
Wouldn't you want to be who you had been
Well, baby I want that too" [Humpty Dumpty]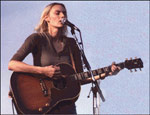 "And I'm pretending to care
When I'm not even there
Gone, but I don't know where" [Lost in Space]
"I feel like a ghost
Who's trying to move your hands
Over some Ouija Board in the hopes
I can spell out my name" [Invisible Ink]
What a startling a figure! James Merrill's ghost must be reeling with multiple frissons.
Anyway, while this album is essentially a field guide to Aimee, it's also by extension an advisory to the codependent company that she keeps.
". . . I get lost in space that goes on forever And you make all the rest just an afterthought And I believe that it's you who could make it better. No, it's not. No it's not." [It's Not]
"And baby—Isn't it enough. . .isn't this your chance, to make a break with circumstance? Isn't it enough, to prove today's the day?" [Today's the Day]
Once again, the answer is: No, it's not. Leaving is a problem for these guys. They are Lost in Space as well—by one degree of separation.
Not the music though. Lost in Space is as musically striking a recording as I've heard this year. It builds on Bachelor's successful sonic universe (see above), adding subtle string embellishments that evoke a touch of melancholy and more than a touch of resignation. When it wants to, it can rock in that euphonious post-Abbey Road soundscape, but its melodic, dynamic, and textural range and vocabulary-reflecting their subject matter-are far more varied and nuanced.
The music then is successful where the woman is not. Its organic, aesthetic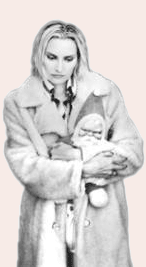 cohesiveness cannot be fragmented. Consider, though, this irony: In spite of its downcast lyrics, Lost in Space resonates with a subtextual confidence. Through creative struggle, Ms. Mann has come to understand her own limitations. And she has gained the wisdom not to push against them. Where does Aimee Mann go from here? She's much too insightful to expect her art to confer magical healing powers that might somehow restore Humpty to his ovate past. Look instead for Ms. Mann in her future work to think outside of the egg carton. Given her motivation and talent, I'd bet on her at the gate to stumble onto creative avenues that confer at least a modicum of well-deserved serenity. And I'd also bet, without any hedge, on her music. Aimee Mann is a bona fide heavyweight.