Bill Visits Bob's
When Bill Staines played a ninety-minute house concert at Bob Blue's last April, he took time to reminisce with Bob, Jeff Lee, and me about some memorable aspects of his 30+ years in acoustic music. He also previewed a book that
he is writing which has become for him a creative obsession. More than a few of us ripening boomers remember Bill as a distinctive voice on the Boston /New England folk scene from the late 1960s on. Though formidable in these parts, in the late 1970s he was something of a folk superhero in Minnesota. "I'd play all over the country to coffee-house audiences of 15 to 50 and then I'd touch down in Minneapolis, where I'd play at the Coffeehouse Extempore to 300 people for three nights in a row," he recalled.
Something in the city's water supply? No, but definitely in its radio waves. In the late 1970s, Staines became a favorite on a Saturday night regional public radio show hosted by the then thirty-something Garrison Keillor. Broadcasting on Minnesota public radio, Keillor had gained regional cult status throughout much of the Midwest with a daily morning public radio show (the Prairie Home Show) that exuded Garrison's own eclectic musical tastes, i.e., classical, jazz, and folk music. Beginning in the late 1970s, Keillor began doing shows on Saturday nights before live audiences—the model for Prairie Home Companion. Staines and Greg Brown were among the folk musicians who became favorites on the show. Both also made legendary live recordings at the Extempore—Browns' One Night (recorded in 1982 and released in 1999) and Staines' Bridges (released originally on Extempore records and later on Red House). In the late 1980s, Staines, who had recorded over a dozen records for Rounder, Folk Legacy, and other labels, began recording for Minneapolis-based Red House, the label which has been synonymous with Brown for two decades.
Material from the artist's extensive Red House and Rounder catalogs were much in evidence in his hour-and-a-half, twenty-song set in Bob Blue's living room. Staines deals largely in straight-ahead traditional folk balladry. Just when you think things might be getting too predictable, he will surprise you with a lovely melodic nuance that can impart a disarming sweetness. He's not afraid to be sentimental but to his credit he doesn't wallow. "I've never had any great strain, any great tragedy," he confessed. Still, he can sing about loss and separation with authority and conviction, as in his most recent CD, October's Hill, released on Red House in 2000.
Since then, Staines' creative impulses have focused not on song writing but on a "road" memoir, which he plans to self-publish by the year's end. "In the book, you get to live with me on the road for five weeks during my tour during the summer of 1999," he notes. "But there is more. Every other chapter is a flashback to a memorable event or series of events in my career. In my 30+ year career, I've learned a great deal about music, people, and life. By sharing those experiences with readers, I hope to give them something of value."
Bill's book will be available exclusively through his web site, which you can visit at http://www.acousticmusic.com/staines/.
Two Signature Accomplishments
Congratulations to Signature Sounds on two outstanding spring releases. Louise Taylor's

Velvet Town and Rani Arbo & Daisy Mayhem's Gambling Eden are surely among the most accomplished CDs in Signature's catalog. In Velvet Town, Louise Taylor has created her own highly personal soundscape of jazz, blues, and African roots-inflected musical offerings. Over the course of the CD, your ears witness a panorama of the African American and proto-African American musical experience that incorporates everything from sultry jazz ballads to West African roots music—the latter propelled by Louise's wonderfully percussive right-hand finger work.
Gambling Eden has a propulsive energy and intensity level that I found lacking in Rani

& Daisy's debut CD, Cocktail Swing. For me, the highlight of the present CD is the quartet's reworking of traditional material like Stewball, Turtle Dove, and Red Rocking Chair. Tight, occasionally edgy arrangements consistently breathe new life into standards where you mistakenly thought you knew everything that was coming next. Original material by Rani and her accomplices brings judicious cadencing to the album as a whole, which ends with a Dave Carter song in honor of the late, great songwriter.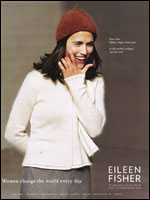 In case you missed it, Rani Arbo, in a full-page ad for Eileen Fisher clothing, dominated the inside back cover of the August 24 edition of the Sunday Times magazine. We've reproduced the page here for your aesthetic appreciation.
ECM Embraces World Music
ECM, one of the planet's most consistently innovative labels, typically makes its mark in jazz and classical music. In recent months the label has registered not one but two coups in world music by releasing outstanding in-concert CDs by world music heavyweights Savina Yannatou and Ghazal. Terra Nostra by Yannatou shows the distinctive Greek soprano at her eclectic best, deftly navigating repertoire from Greece, Lebanon, Sardinia, the Hebrides, Bulgaria, Sephardic Spain, and even the Caribbean. By and large, Yannatou, whose emotional and tonal range is astounding, avoids experimental vocal tangents that have marred some of her previous albums. In fact, the current CD—delivered with unstinting virtuosity by Yannatou, backing vocalist Lamia Bedioui, and the instrumental ensemble Primavera—should serve as an object lesson for world musicians in its happy marriage of diversity and balance.

In The Rain, the virtuosos who comprise Ghazal—Shujaat Khan on sitar and vocals and Kayhan Kalhor on Persian spike fiddle (kamancheh)—have indeed tapped into common roots that underlie Persian music and the Mughal origins of northern Indian classical music. That alone would be remarkable enough in any collaboration. But what elevates Ghazal and their latest CD to the stars are the musical personalities of the players. Both are sufficiently secure and masterful in their craft and identity to generate nonstop improvisational ingenuity and uncommonly nuanced musical interactivity. To these ears, each of Ghazal's four CDs (the first three were on Shanachie) has been better than the previous. With The Rain, Ghazal has arrived at a plateau inhabited by the world's greatest improvisatory collaborators.
Danilo Perez in Amherst

On Thursday night, October 2, at 8 p.m., Danilo Perez will appear with his trio at Bowker Auditorium on the UMass Amherst campus. Perez, who is has gained stature as Wayne Shorter's musical alter ego in the latter's much celebrated quartet, is a remarkably eclectic musician and an extroverted performer. In both the quartet and the trio, Perez—a Panamanian who teaches at the New England Conservatory—imparts a wealth of styles that embrace mainstream and harmonically adventurous jazz, Latin, classical impressionism, and popular music vernaculars. These can heard to excellent advantage on his just released CD, Till Then, on Verve. But Perez' calling as a joyous ambassador for innovative improvisatory music comes across best in a live setting.