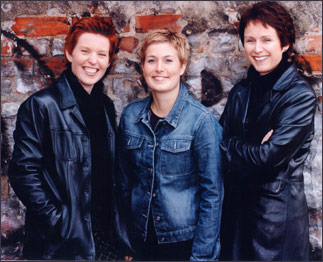 If you're searching for a requiem to tide you through the prospect of a world without Anonymous 4—the world's leading a cappella women's group, which after twelve years is disbanding—another sort of solace is on the way. For the last four years, three Scandinavian sopranos who call themselves Trio Mediæval have been wowing European audiences with their versatility, looks, and stunning musicality. In late January, ECM will release their second CD, Soir, dit-elle. (Their debut disc, Words of the Angel (ECM), released two years ago, earned rave reviews and a cult following on both sides of the Atlantic.) In February, the trio will make their first serious tour of the United States with stops in New York; Chicago; Washington, DC; Lacy, Washington; and Boston—on February 7th at Emmanuel Church.

I say serious because the three have been here—though fleetingly—before. I was an eyewitness last July at Dartmouth College in what was only their second US concert appearance. (The first had been at a music festival in New Haven two days earlier. The day after their recital at Dartmouth, they were on a plane back to Europe.)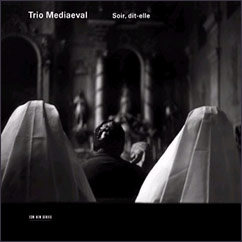 It was a sweltering June evening when the three—in red, blue, and green satin and looking like expatriates from Ingmar Bergman central casting—strolled out onto the dais of Dartmouth's Rollins Chapel. For the record, the trio comprises two Norwegians—Linn Andrea Fuglseth and Torunn Østrem Ossum—and a Swede, Anna Maria Friman.
In the hour-and-twenty-minute recital that followed (generous by early music standards, especially in the 90+ degree heat), Trio Mediæval gave equal time to the medieval and the modern. As with their debut CD, the trio interspersed sections of the Tournai Mass—the world's earliest polyphonic mass—throughout the recital. Also true to the CD, they saved Ivan Moody's Greek Orthodox-infused exultation, Words of the Angel, for the recital's climax. As I wrote in a previous review, Words is a tour de force of sinuous chant and unadorned contrapuntal statements, alternating with a broad, occasionally dissonant brush of soaring and cascading polyphonies. It's become a signature piece for the trio, for whom it was written.
In concert, Trio Mediæval served up more compositions from this century than from a more distant medieval mirror. Short meditative pieces penned for the ensemble by Gavin Bryars and Andrew Smith (both on their new CD)—the latter an expatriate Liverpudlian who is choirmaster at the English Church in Oslo—evoked sacred aspirations through expanded harmonic language that nevertheless remained faithful to a medieval aesthetic of unvarnished clarity and forthrightness. Contemporary art songs by Irish composer Piers Hellawell and Norwegian Lasse Thoresen revealed the trio's versatility with secular material. So did a lovely Norwegian folk song arrangement that for this reviewer evoked sylvan Nordic landscapes. When I asked Anna Maria Friman at intermission if the trio's name might be a misnomer considering its wealth of modern repertoire, she disagreed with a smile. Clearly, when you write for Trio Mediæval, you can bank on a performance with medieval sensibilities that embody crystal-clear vocal delineations and impeccable balance. There's no chance of anything getting lost either dynamically or beneath occluding instrumental timbres.
Trio Mediæval and Anonymous 4 create very different soundscapes. Anonymous 4 lives up to its name, subordinating individuality within the group to a unified sound that yields a single, beautiful instrument. The retirement of Anonymous 4 is analogous to losing forever the unique sound of an instrument—it's as if oboes became extinct. Trio Mediæval negotiates a still-point that balances its organic sound as an ensemble with the distinct musical personalities of its members. Anna Maria Friman possesses a lovely, soaring soprano. Andrea Fuglseth, who frequently occupies the trio's middle range, exudes a nurturing soprano in the best Marian sense. Torunn Østrem Ossum, whose solos reveal what must be a 3+ octave range, frequently descends into alto country—simply because she can. "Our bright Nordic vowels also distinguish our sound," observed Ms. Fuglseth after the concert. So does the trio's deployment of Nordic diphthongs (i.e., where one vowel is a blend of two), which can produce sparkling, multifaceted resonances.
"It's been wonderful singing here in this chapel; in Norway and Sweden, we've been performing a great deal in schools," remarked Ms. Friman. Not to worry. In addition to their forthcoming appearance at Emmanuel Church in Boston, Trio Mediæval's tour will bring them to Rockefeller Chapel in Chicago and the redoubtable Washington National Cathedral. "But our favorite performance setting was neither in a church nor a concert hall," she confessed. "It was outdoors back home on the shore of a small lake. In front of us was the audience; behind us on the other side of the lake was a percussionist. The music and the experience itself—both were magical."