| | |
| --- | --- |
| Pioneer Valley Folklore Society Happenings | December 2001 |
Contents
Hugh Blumenfeld will be December 14 Song & Story Swap guest
New CD releases from Signature Sounds and Josée Vachon
Taj Mahal visits home
Calendar
---
Hugh Blumenfeld will join December Song & Story Swap
Please come share in an evening of music and stories at the December Pioneer Valley Folklore Society SONG & STORY SWAP.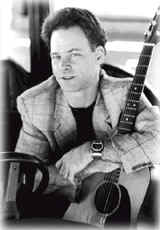 Friday, December 14, 7:30-9:30 p.m. at the Black Sheep Café, 79 Main St., Amherst, Mass.
Guest performer at the December 14 Song & Story Swap will be folksinger and songwriter Hugh Blumenfeld. Hugh Blumenfeld's songs range from romantic ballads to biting satire. The Boston Globe described his work as "words and music full of passion and poetry" while DJ/presenter Ed McKeon called him "as sharp a political and social satirist as any songwriter writing today."
A veteran of the Greenwich Village folk scene of the eighties, Hugh has performed across the U.S. and abroad, with recent tours in Europe and Israel. He has released four albums on the independent Prime CD label and his songs have appeared on numerous compilation albums including the upcoming Fast Folk compilation to be issued by Smithsonian/Folkways next year.
The Connecticut Commission on the Arts selected him as a Master Teaching Artist in 1995 and named him Connecticut's official State Troubadour for 1999 and 2000. He is also the editor of The Ballad Tree, a folk music site that features 1000s of links, articles, essays and reviews.
Learn more about Hugh Blumenfeld and his music at http://www.hughblumenfeld.com/.
The Song & Story Swap is an event where people of all ages gather to share stories and songs that may be traditional, newly written, or of personal experiences. You can tell, sing, or lead everyone in singing, play an instrument or request a song or story. Listeners are welcome, too. Admission is free, with donations accepted.
The warm-up theme this month is Gifts.

The PVFS Song & Story Swap happens the 2ND FRIDAY of every month. For information contact Paul Kaplan, (413)-253-9484 or Jeff Lee, (413)-256-0433 or visit http://www.filbert.com/pvfs.
---
New CD Releases out of the Valley

Wonderland is the latest in a series of annual theme collections from the folks at Signature Sounds and their fine cadre of acoustic artists. This year's disc is devoted to music of the holiday season and features cuts by Rani Arbo, Jim Henry, Erica Wheeler, Mark Erelli, Katryna and Nerissa Nields, Brooks Williams, Erin McKeown, Pete Nelson and several more. Proceeds benefit the Food Bank of Western Mass. A CD release party will be held at the Iron Horse on Dec. 20. See the Signature Sounds web site for ordering info.

Josée Vachon, the Amherst-based singer and writer of Franco-American songs has recently announced two recordings. Déracinée/Uprooted is a mix of French-Canadian ballads, humorous songs and chansons à répondre. Devotion is described as representing "some of the most beautiful French hymns of yesterday and today."

Both are available at http://www.joseevachon.com.

---
Taj Mahal visits home

Blues and roots music giant, Taj Mahal, stopped in Northampton to play the Calvin Theater last month. After an energetic show that had the hall full of mostly baby-boomers dancing and clapping in the aisles, he met backstage with a group of well-wishers that included former classmates at Westfield High School ('60) and the Stockbridge School of Agriculture at UMass ('64), and his step-dad who still lives in Taj's old hometown of Springfield. There he recounted how music entered his life: "During a game of hide-and-seek with my brother, I was hiding in a closet when I felt something round pressing into my back." It turned out to be his stepfather's guitar, and Taj rarely put it down after that.
He entered UMass in 1961 intent on learning how to farm, but his success with a band that he formed called Taj Mahal and the Electras led him to join the fledgling Connecticut Valley Folklore Society, and later to become involved in the Cambridge folk scene and eventually land a Columbia Records recording contract.
Our resident music analyst, Lou Wigdor, has uncovered some rare photos of Taj Mahal's university days when he was a frequent performer at campus mixers, the Quonset Hut Restaurant and the erstwhile Saladin Coffeehouse which served as the hub of the Pioneer Valley folk movement in the early sixties. Check out the Taj Mahal UMass Photo Archives.
---
PVFS and Friends Upcoming Event Calendar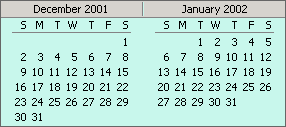 If there is a folk event you'd like included in the calendar, please forward information to pvfolk@yahoo.com.
---
If you'd like to be removed from this mailing list, please send an email to pvfolk@yahoo.com with the word REMOVE in the subject.
---
Pioneer Valley Folklore Society, Amherst, Mass.
Web site - http://www.filbert.com/pvfs/
Newsletter archives - http://www.filbert.com/pvfs/news/
Email - pvfolk@yahoo.com
Director/Host: Paul Kaplan
Webmaster: Jeff Lee
December 9, 2001