| | |
| --- | --- |
| Pioneer Valley Folklore Society Happenings | December 2003 |
Contents
Erik Balkey will be December 12 Song & Story Swap guest
Valley artists figure in WUMB poll
A Net Station streams folk radio from Antarctica
Lou's Reviews — Norman Schell in Amherst
Calendar
---
Erik Balkey will join December 12 Song & Story Swap
Please come share in an evening of music and stories at the December Pioneer Valley Folklore Society SONG & STORY SWAP.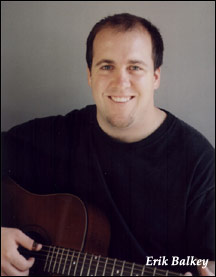 Friday, December 12, 7:30-9:30 p.m. at the Black Sheep Café, 79 Main St., Amherst, Mass.

Guest artist at the December 12 Song & Story Swap will be Philadelphia-based singer and songwriter Erik Balkey. Erik began performing in 1994 as a member of the Red Bank, NJ music scene, and later polished his skills at New York's famed Fast Folk Café.

His work, which includes a 1999 self-titled debut CD and the followup Negotiations & Compromise released in 2001, has received positive reviews from several discerning trade magazines, among them Sing Out!, Songwriters Monthly, and Dirty Linen. Last year saw the release of an EP called "God's Poet Now" which features a title track honoring the late Signature Sounds recording artist Dave Carter.

Erik Balkey has gained finalist honors at the Wildflower Songwriter Contest (TX), the Mountain Stage NewSong Festival Songwriting Contest (WV), and the Unisong Song Contest. He is author of the "Songwriter's Tour Guide," an online journal of his road and music business experiences begun in January 2000.

More information about Erik Balkey may be found at http://www.erikbalkey.com

.

The warm-up theme this month is Death.

The PVFS Song & Story Swap happens the 2ND FRIDAY of every month. For information contact Paul Kaplan, (413)-253-9484 or Jeff Lee, (413)-256-0433 or visit http://www.filbert.com/pvfs.
---
Valley artists prominent in WUMB poll

WUMB, the all-folk music radio station of UMass Boston, recently invited its listeners to submit the name of the artist they most like to listen to "when they have the blues (and when they don't!)." The've published the top 100 vote-getters and the Pioneer Valley is well represented.
Former Northampton resident, Dar Williams, came in at #2 and Whately-based Signature Sounds Recordings' artists Richard Shindell and Dave Carter & Tracy Grammer were #3 and #5 respectively. Other (one-time) Valley musicians on the list include Brooks Williams, the Nields, Mark Erelli, Cliff Eberhardt, Deb Talan, Erin McKeown, Taj Mahal, Rani Arbo and Martin Sexton.
Find out who is #1 (she comes to the Iron Horse in February) at http://www.wumb.org/worldOfFolk/top100_2003.html.
---
Cool folk radio station — A Net Station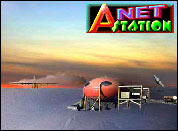 Thanks go to Jack Kid who in his latest newsletter tuned us into a "cool" streaming web folk radio station called simply A Net Station. It originates from Antarctica and is the creation of George Maat, who programs folk and acoustic music by independent artists.
To receive the stream you need MP3-playing software such as WinAmp. Then go to http://www.anetstation.com and click on "play."
Check out the Pioneer Valley Folklore Society radio page for information on several more radio stations with good folk programs.
---
Lou's Reviews — Norm Schell in Amherst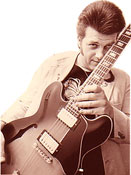 It was heartening to rediscover old friend Norman Schell [the former front man for the defunct band, Clean Living] at the November PVFS Song and Story Swap at the Black Sheep in Amherst. Norman, who performed with his daughter, Gail Hunt, on contrabass, and her husband, Dan Hunt, on acoustic guitar, served up an engaging tapestry of Americana informed by his own vibrant roots. Norm's family—many of them farmers—emigrated from Germany to northeastern Pennsylvania in the 1680s. The singer-songwriter connects to that well-spring through family memories and his avid reading of pre-20th century American history, much of which has become grist for his strikingly melodic song narratives. Like most of Schell's output, his compositions "Old Put's Mare" and "The Ballad of Mary Reede" [a pre-woman's lib female pirate] tell absorbing tales while transporting the listener in time and space. His settings of "Psalm 137 (Oh Jerusalem)" and of William Billing's Revolutionary War era ballad, "Chester," also take you for a bonnie ride on the time machine.

During the forty-minute set, Gail Hunt consistently laid down a rich bed of melodic bowing for her father's melodies. Her husband Dan's chords and intervals were unfailing in strategically highlighting the music. Conspicuous in his absence was the band's fourth member, Rick Tiven, whose arrangements and solo fiddle improvisations kick the band's energy level up a notch on their current CD, Norman Schell and Youth Well Spent. You can buy the CD at Dynamite Records in Northampton, Blue Mountain Music and About Music in Greenfield, and from Norman's web site: http://www.NormanSchell.com.
— Lou Wigdor
---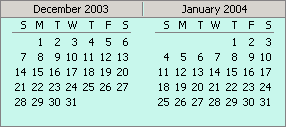 If there is a folk event you'd like included in the calendar, please forward information to pvfolk@yahoo.com.
---
If you'd like to be removed from this mailing list, please send an email to pvfolk@yahoo.com with the word REMOVE in the subject.
---
Pioneer Valley Folklore Society, Amherst, Mass.
Web site - http://www.filbert.com/pvfs/
Newsletter archives - http://www.filbert.com/pvfs/news/
Email - pvfolk@yahoo.com
Director/Host: Paul Kaplan
Webmaster: Jeff Lee
December 7, 2003