| | |
| --- | --- |
| Pioneer Valley Folklore Society Happenings | November 2004 |
| | |
Laura Wood will be guest at November 12 Song & Story Swap
Please come share in an evening of music and stories at the November Pioneer Valley Folklore Society SONG & STORY SWAP.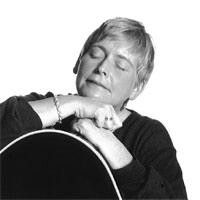 Friday, November 12, 7:30-9:30 p.m. at the Black Sheep Café, 79 Main St., Amherst, Mass.
Featured artist at the November 12 Song & Story Swap will be guitarist, percussionist and singer-songwriter, Laura Wood.
Trained in music at Skidmore College, Laura made her professional debut at the storied Café Lena in Saratoga Springs as a 19-year-old, and went on to study vocal jazz at Umass. Settling in Northampton, she entitled her first CD Summit House in tribute to the scenic shelter atop Mt. Skinner in Hadley.

Laura Wood's songwriting and guitar work have drawn comparisons to k.d. lang, Leo Kottke and Joni Mitchell. In addition to headlining at several of the Northeast's top music halls such as the Iron Horse and Club Passim, she is a veteran of numerous festivals including Lilith Fair, Rockgrl Music Conference and the National Women's Festival. Laura has recently toured to promote her second CD, South Station Slide, recorded locally at the Signature Sounds studio.

More information about Laura Wood may be found at her web site, http://www.millriver.com/laura.html.
The warm-up theme this month is Disappointment / Vindication.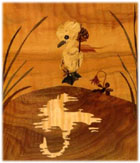 The PVFS Song & Story Swap happens the 2ND FRIDAY of every month. For information contact Paul Kaplan, (413)-253-9484 or Jeff Lee, (413)-256-0433 or visit http://www.filbert.com/pvfs.
---
---
Note. If you would prefer to receive this monthly newsletter as plain text (no photos or formatting, but requires less space), please click on the link below:
If you would like to be removed from the mailing list click on the link below:
---
Pioneer Valley Folklore Society, Amherst, Mass.
Web site - http://www.filbert.com/pvfs/
Newsletter archives - http://www.filbert.com/pvfs/news/
Email - pvfolk@yahoo.com
Director/Host: Paul Kaplan
Webmaster: Jeff Lee
November 7, 2004