| | |
| --- | --- |
| Pioneer Valley Folklore Society Happenings | June 2008 |
Contents
Three of Cups will highlight June 8 Song & Story Swap
---
Three of Cups will join June 8 Song & Story Swap
Please come share in an evening of music and stories at the Pioneer Valley Folklore Society Song & Story Swap.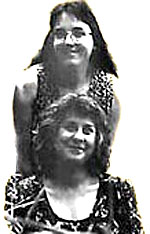 Sunday, June 8 , 7:00-9:30 p.m. at the The Nacul Center, 592 Main St., Amherst, Mass (see map).
Guest performers for the June 8 Song & Story Swap will be the balladeering folk duo Three of Cups.
Three of Cups is a female duo who, with voices that harmonize and blend, and enhanced with occasional instrumentation, bring clarity and life to the stories they sing.
The name "Three of Cups" comes from a tarot card which depicts women offering a toast of celebration to life. In this spirit of celebration, Deborah Claar and Ann-Marie Messbauer delight audiences with music ranging from Elizabethan songs to Irish fiddle tunes, American folk songs and hymns, and English bawdry and ballads.
Three of Cups started out twenty years ago as a group project for a class taught by folklorist Tony Barrand at Boston University (they got an 'A'). The Cups have released three recordings, most recently an album of traditional English and American Chrismas music called Sweet Hope of Glory and available at http://cdbaby.com/cd/threeofcups.
For more information and music samples visit the Three of Cups web site at http://www.threeofcupsmusic.com.
The warm-up theme this month is Disguise, Deception and Trickery.

The Song & Story Swap is open to the public, free of charge with donations accepted. People of all ages gather to share stories and songs that are traditional, newly written, or of personal experiences. You can tell, sing, or lead everyone in singing, or request a song or story. Listeners are welcome.
Please note that there will be no Song & Story Swaps held on the customary 2nd Sundays of July and August as we break for the summer.
For information contact Paul Kaplan, (413)-687-5002 or Jeff Lee, (413)-256-0433 or visit http://www.filbert.com/pvfs.
---
Note. If you would prefer to receive this monthly newsletter as plain text (no photos or formatting, but requires less space), please click on the link below:
If you would like to be removed from the mailing list click on the link below:
---
Pioneer Valley Folklore Society, Amherst, Mass.
Web site - http://www.filbert.com/pvfs/
Newsletter archives - http://www.filbert.com/pvfs/news/
Email - pvfolk@yahoo.com
Discussion forum and announcements - http://groups.google.com/group/PVFS
Director/Host: Paul Kaplan
Webmaster: Jeff Lee
June 3, 2008