| | |
| --- | --- |
| Pioneer Valley Folklore Society Happenings | October 2008 |
Contents
Storyteller Bob Reiser will be featured at October 4 Song & Story Swap
---
Storyteller Bob Reiser will join October 4 Song & Story Swap
Please come share in an evening of music and stories at the Pioneer Valley Folklore Society Song & Story Swap.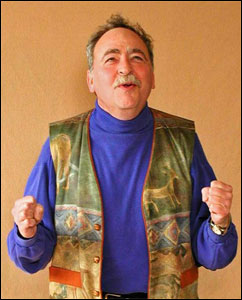 Saturday, October 4, 7:00-9:30 p.m. at the The Nacul Center, 592 Main St., Amherst, Mass (see map).

Please note that the Song & Story Swap has moved to the first Saturday of each month.

Bob Reiser, author and storyteller, will premiere his new piece – Red Diaper Blues – at the Pioneer Valley Song and Story Swap On October 4th. Bob has tickled audiences from New York to Vancouver with his unique and energetic recounting of new and old tales; his books, including Carry it On and Everybody Says Freedom, both written with Pete Seeger, are read around the world. Bob's recently released CD, An Evening With Grandpa Abe and Uncle Ahmet, asks, "What if the greatest storytellers of the Jewish and Muslim world had a chance to match their tales and their wit?… Could stories help mend a broken world?"

Bob and his wife, Sandy, are newly-minted residents of Eashampton, Massachusetts, residing in the state for a bare six months.

For more information visit http://www.bobtales.com.

The warm-up theme this month is Forgetfulness.

The Song & Story Swap is open to the public, free of charge with donations accepted. People of all ages gather to share stories and songs that are traditional, newly written, or of personal experiences. You can tell, sing, or lead everyone in singing, or request a song or story. Listeners are welcome.

For information contact Paul Kaplan, (413)-687-5002 or Jeff Lee, (413)-256-0433 or visit http://www.filbert.com/pvfs.
---
Note. If you would prefer to receive this monthly newsletter as plain text (no photos or formatting, but requires less space), please click on the link below:
If you would like to be removed from the mailing list click on the link below:
---
Pioneer Valley Folklore Society, Amherst, Mass.
Web site - http://www.filbert.com/pvfs/
Newsletter archives - http://www.filbert.com/pvfs/news/
Email - pvfolk@yahoo.com
Discussion forum and announcements - http://groups.google.com/group/PVFS
Director/Host: Paul Kaplan
Webmaster: Jeff Lee
September 29, 2008