| | |
| --- | --- |
| Pioneer Valley Folklore Society Happenings | January 2009 |
Contents
Rani Arbo and Andrew Kinsey will heat up January 3 Song & Story Swap
---
Rani Arbo and Andrew Kinsey will join January 3 Song & Story Swap
Please come share in an evening of music and stories at the Pioneer Valley Folklore Society Song & Story Swap.
Saturday, January 3 , 7:00-9:30 p.m. at the The Nacul Center, 592 Main St., Amherst, Mass (see map).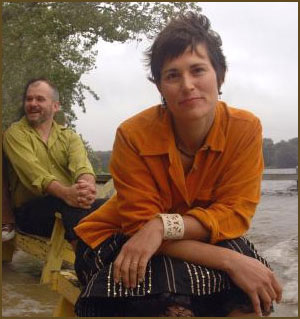 Please note that the Song & Story Swap has moved to the first Saturday of each month.
Featured performers at the January 3 Song & Story Swap will be popular folk musicians Rani Arbo and Andrew Kinsey.
Rani Arbo is the founder of Daisy Mayhem. First and foremost a singer, she has a beautiful, malleable alto and a sense for the heart of a song. Steeped in thirty years of choral music, Arbo has also logged years with a honky-tonk band, a Balkan rock band, and almost a decade with the folk-bluegrass band Salamander Crossing. A cellist by training, her swampy, self-taught fiddling draws from swing, blues, and old-time music. She has toured and recorded with Joan Baez, John McCutcheon and many others.
Andrew Kinsey began his musical life as the youngest bagpiper in his town. Since then, he has taken up the slightly more socially acceptable double bass, with frequent regressions to the ukulele and banjo. Arbo's singing partner for more than fifteen years, his rich, compelling baritone, generous spirit, and rock-solid bass playing keep daisy mayhem glued together. Kinsey's musical and humorous sensibilities inspired the band's debut CD, Cocktail Swing, which romps through vintage country, swing and jazz chestnuts.
The All Music Guide has described Daisy Mayhem as "Bursting with fun and exuberance, tight sound and spirit... Arbo could be the Kitty Wells of the new millennium."
Rani Arbo and Andrew Kinsey are returning to their former home-base of Amherst after a long absence. Don't miss this special event!
Visit the web site of Rani Arbo & Daisy Mayhem at http://www.raniarbo.com/.
The warm-up theme this month is Change.

The Song & Story Swap is open to the public, free of charge with donations accepted. People of all ages gather to share stories and songs that are traditional, newly written, or of personal experiences. You can tell, sing, or lead everyone in singing, or request a song or story. Listeners are welcome.
For information contact Paul Kaplan, (413)-687-5002 or Jeff Lee, (413)-256-0433 or visit http://www.filbert.com/pvfs.
---
Note. If you would prefer to receive this monthly newsletter as plain text (no photos or formatting, but requires less space), please click on the link below:
If you would like to be removed from the mailing list click on the link below:
---
Pioneer Valley Folklore Society, Amherst, Mass.
Web site - http://www.filbert.com/pvfs/
Newsletter archives - http://www.filbert.com/pvfs/news/
Email - pvfolk@yahoo.com
Discussion forum and announcements - http://groups.google.com/group/PVFS
Director/Host: Paul Kaplan
Webmaster: Jeff Lee
December 30, 2008