| | |
| --- | --- |
| Pioneer Valley Folklore Society Happenings | March 2009 |
Contents
Michael Orlen will join the March 7 Song & Story Swap
Music at Munson on March 15
---
Singer-Songwriter Michael Orlen will join March 7 Song & Story Swap
Please come share in an evening of music and stories at the Pioneer Valley Folklore Society Song & Story Swap.
Saturday, March 7 , 7:00-9:30 p.m. at the The Nacul Center, 592 Main St., Amherst, Mass (see map).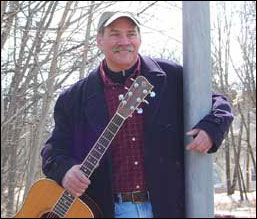 Please note that the Song & Story Swap has moved to the first Saturday of each month.

Featured guest at the March 7 Song & Story Swap will be folksinger-songwriter Michael Orlen.

Michael Orlen can trace his guitar-picking career back to the Charles Street neighborhood of Boston during the late sixties, where he was part of an emerging folk scene that included Bill Staines, Paul Geremia and Chris Smither.

Now residing in Amherst, Orlen has focused on songwriting of late, and has a CD showcasing his most recent compositions in the works. Come to the Song & Story Swap on March 7 and get an early glimpse of this talented musician's craftsmanship.
The warm-up theme this month is

Wind

.


The Song & Story Swap is open to the public, free of charge with donations accepted. People of all ages gather to share stories and songs that are traditional, newly written, or of personal experiences. You can tell, sing, or lead everyone in singing, or request a song or story. Listeners are welcome.
For information contact Paul Kaplan, (413)-687-5002 or Jeff Lee, (413)-256-0433 or visit http://www.filbert.com/pvfs.
---
Mar. 15 Music at Munson will present Paul Kaplan and Doug Hewitt Group
On Sunday, March 15, the South Amherst Conservation Association will present a concert at the Munson Library, 1046 South East St., Amherst featuring the original songs of folksinger Paul Kaplan and the groovin' sounds of jazz combo The Doug Hewitt Group. The show begins at 7:30 p.m.
Admission is $10 with ages 12 and under admitted for free. For more information contact Karen at 413-256-6401 or visit http://www.filbert.com/saca/musicatmunson.pdf.
---
Note. If you would prefer to receive this monthly newsletter as plain text (no photos or formatting, but requires less space), please click on the link below:
If you would like to be removed from the mailing list click on the link below:
---
Pioneer Valley Folklore Society, Amherst, Mass.
Web site - http://www.filbert.com/pvfs/
Newsletter archives - http://www.filbert.com/pvfs/news/
Email - pvfolk@yahoo.com
Discussion forum and announcements - http://groups.google.com/group/PVFS
Director/Host: Paul Kaplan
Webmaster: Jeff Lee
March 2, 2009