| | |
| --- | --- |
| Pioneer Valley Folklore Society Happenings | April 2009 |
Contents
Folksinger Tom Neilson will join the April 4 Song & Story Swap
Remembering Rich Morse
---
Folksinger Tom Neilson will join the April 4 Song & Story Swap
Please come share in an evening of music and stories at the Pioneer Valley Folklore Society Song & Story Swap.
Saturday, April 4 , 7:00-9:30 p.m. at the The Nacul Center, 592 Main St., Amherst, Mass (see map).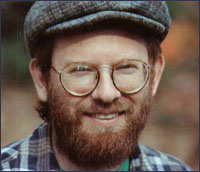 Guest performer at the April 4 Song & Story Swap will be folksinger-songwriter-activist Tom Neilson.
Known locally as "the Bard Insurgent," Tom provides a voice for all who believe in the power of music to effect change. His award-winning songs of humor, compassion, and political affairs have been performed in 19 countries on 5 continents. His lyrics are celebrated for their sophistication, political astuteness, and wit. At the Kerrville Folk Festival, he was referred to as the "Jon Stewart of folk music."
Through his longstanding involvements in groups working for peace and justice, Tom Neilson's music has been heard at the gates of military bases, nuclear plants, on union lines, and to free political prisoners such as Leonard Peltier and Mumia Abu-Jamal.
Tom has released a total of ten recordings, including Swords into Plowshares, which chronicles the 1989 War Tax Refusers Movement in Colrain, Mass., and features "The Ballad of Randy Kehler." His recent CD, "Root Beer Makes Me Burp," is a tender and thoughtful chronicle of songs written for the children in his life.
More about Tom Neilson can be found at his web site, http://www.tomneilsonmusic.com.

The warm-up theme this month is The Body.


The Song & Story Swap is open to the public, free of charge with donations accepted. People of all ages gather to share stories and songs that are traditional, newly written, or of personal experiences. You can tell, sing, or lead everyone in singing, or request a song or story. Listeners are welcome.
For information contact Paul Kaplan, (413)-687-5002 or Jeff Lee, (413)-256-0433 or visit http://www.filbert.com/pvfs.
---
In memory of Rich Morse
We were saddened to learn of the death of Rich Morse on March 2. As founder of The Button Box accordion and concertina shop in Amherst and later Sunderland, and creator of the internationally prized Morse line of concertinas, Rich held a prominent place in the musical heritage of the Pioneer Valley.
A celebration of Rich's life is scheduled for Sunday, April 19th, at 1 p.m. at the Sunderland Public Library, which is located at 20 School St., Sunderland, MA. Directions can be found on the library's website. Weather permitting, it will be an outdoor event.
---
Note. If you would prefer to receive this monthly newsletter as plain text (no photos or formatting, but requires less space), please click on the link below:
If you would like to be removed from the mailing list click on the link below:
---
Pioneer Valley Folklore Society, Amherst, Mass.
Web site - http://www.filbert.com/pvfs/
Newsletter archives - http://www.filbert.com/pvfs/news/
Email - pvfolk@yahoo.com
Discussion forum and announcements - http://groups.google.com/group/PVFS
Director/Host: Paul Kaplan
Webmaster: Jeff Lee
March 31, 2009