| | |
| --- | --- |
| Pioneer Valley Folklore Society Happenings | May 2009 |
Contents
Blues/Gospel musician Robin O'Herin will be featured at May 2 Song & Story Swap
June 6: Roberts and Barrand at the Nacul Center
---
Robin O'Herin will join the May 2 Song & Story Swap
Please come share in an evening of music and stories at the Pioneer Valley Folklore Society Song & Story Swap.
Saturday, May 2, 7:00-9:30 p.m. at the The Nacul Center, 592 Main St., Amherst, Mass (see map).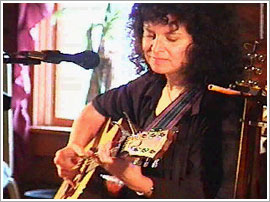 Guest performer at the May 2 Song & Story Swap will be blues artist Robin O'Herin.
Berkshires-based Robin O'Herin offers up a powerful mix of acoustic blues and gospel singing with a tinge of Appalachian mountain music. She plays bottleneck and fingerstyle guitar and mountain dulcimer.
Robin has developed a historically rich repertoire of American music, which she presents with a warm, interactive style. Her performances are affirming experiences that she shares with the audience.
She was a finalist in the 2006 Memphis Blues Challenge and has played blues festivals throughout Europe and the U.S. Her arrangement of "Old Country Rock" and her original "Everhopeful" were selected for the soundtrack of the PBS "2005 Roadtrip Nations" Series. She has released two CDs, Red, White and Blues and The Road Home, with two more in the works.
More about Robin O'Herin can be found at her web site, http://www.robinoherin.com.

The warm-up theme this month is Blue.


The Song & Story Swap is open to the public, free of charge with donations accepted. People of all ages gather to share stories and songs that are traditional, newly written, or of personal experiences. You can tell, sing, or lead everyone in singing, or request a song or story. Listeners are welcome.
For information contact Paul Kaplan, (413)-687-5002 or Jeff Lee, (413)-256-0433 or visit http://www.filbert.com/pvfs.
---
Roberts and Barrand to perform in concert on June 6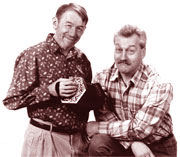 Pioneer Valley Folklore Society presents An Evening with John Roberts and Tony Barrand on Saturday, June 6, at the Nacul Center, 592 Main St., Amherst. For thirty years John Roberts and Tony Barrand have been treating audences around the world to the finest traditional ballads, sea chanteys and music hall songs that folk music has to offer. This peerless pair of troubadours always delivers with originality, penache and good cheer.
Roberts and Barrand will be performing in the intimate and friendly setting of the Nacul Center. The show starts at 7:00 p.m. Admission is $15 ($12 for seniors and children under 13).
Advance tickets may be purchased at Food For Thought Books, 106 N. Pleasant St., Amherst, MA.
This special event will be in place of the Song & Story Swap regulary scheduled for the 1st Saturday of the month. For additional information contact (413) 687-5002 or visit http://www.filbert.com/pvfs.
.
---
Note. If you would prefer to receive this monthly newsletter as plain text (no photos or formatting, but requires less space), please click on the link below:
If you would like to be removed from the mailing list click on the link below:
---
Pioneer Valley Folklore Society, Amherst, Mass.
Web site - http://www.filbert.com/pvfs/
Newsletter archives - http://www.filbert.com/pvfs/news/
Email - pvfolk@yahoo.com
Discussion forum and announcements - http://groups.google.com/group/PVFS
Director/Host: Paul Kaplan
Webmaster: Jeff Lee
April 28, 2009