| | |
| --- | --- |
| Pioneer Valley Folklore Society Happenings | June 2009 |
Contents
On June 6 PVFS presents An Evening with Roberts and Barrand
---
John Roberts and Tony Barrand to give concert at Nacul Center on June 6
The Pioneer Valley Folklore Society is honored to announce a special event -- An Evening with John Roberts and Tony Barrand.

The concert will take place on Saturday, June 6, 7:00 p.m., at the Nacul Center, 592 Main St., Amherst, MA.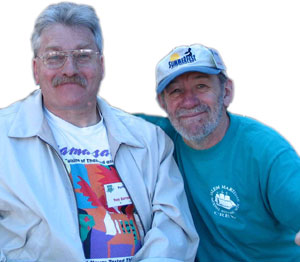 John Roberts and Tony Barrand have been described by Sing Out! magazine as the "New World's foremost practitioners of traditional British folk songs." Since teaming up as grad students at Cornell University four decades ago, British-born Roberts and Barrand have delighted and enlightened audiences with their renditions of sea shanties, music hall songs, and centuries-old ballads. The pair's well-blended vocal harmonies are augmented by their verve, wit, and scholar's knowledge of the body of British folk music.
They draw upon a variety of instruments. John Roberts excels at both Anglo and English concertina, as well as being a fine banjo and guitar player, while Tony is a skilled percussionist on drums, bones, and spoons.
In addition to his accomplishments as a folk musician and teacher, Tony Barrand is an acknowledged authority on Morris dancing and was the 2008 recipient of Country Dance and Song Society's "Lifetime Contribution Award."
Roberts and Barrand have produced nine recordings, and have also performed and recorded with the touring holiday ensemble, Nowell Sing We Clear. They contributed to the 2008 Audie Award-winning audio publication of Sweeney Todd and the String of Pearls.
Admission for the concert is $15 ($12 for seniors and children under 13). Advance tickets may be purchased at Food For Thought Books, 106 N. Pleasant St., Amherst, MA.
Don't miss this rare concert appearance by two of folk music's living treasures.
Find additional information about John Roberts and Tony Barrand at their web site.
For information about the concert contact Paul Kaplan, (413)-687-5002 or Jeff Lee, (413)-256-0433 or visit http://www.filbert.com/pvfs.
Please note that there will be no Song & Story Swaps held on the customary 1st Saturdays of July and August as we break for the summer. Swaps will resume on Saturday, September 5, 7pm at the Nacul Center.
---
Note. If you would prefer to receive this monthly newsletter as plain text (no photos or formatting, but requires less space), please click on the link below:
If you would like to be removed from the mailing list click on the link below:
---
Pioneer Valley Folklore Society, Amherst, Mass.
Web site - http://www.filbert.com/pvfs/
Newsletter archives - http://www.filbert.com/pvfs/news/
Email - pvfolk@yahoo.com
Discussion forum and announcements - http://groups.google.com/group/PVFS
Director/Host: Paul Kaplan
Webmaster: Jeff Lee
June 1, 2009