| | |
| --- | --- |
| Pioneer Valley Folklore Society Happenings | September 2009 |
Contents
Storyteller Motoko will join the September 5 Song & Story Swap
Two September shows - Bread & Puppet, Tom Juravich
Agawam Celtic series
---
Storyteller Motoko will be featured at Sept. 5 Song & Story Swap
Please come share in an evening of music and stories at the Pioneer Valley Folklore Society Song & Story Swap.
Saturday, September 5 , 7:00-9:30 p.m. at the The Nacul Center, 592 Main St., Amherst, Mass (see map).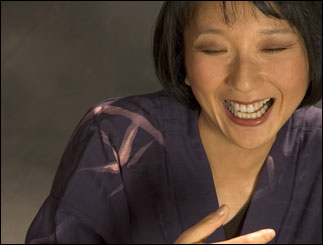 Guest performer at the September 5 Song & Story Swap will be award-winning storyteller Motoko.

Motoko enchants audiences of every age with her weaving of ancient lore, original tales, lyrical movement and traditional music. Her repertoire includes Asian folktales, Zen tales, comical tales from rakugo (a Japanese traditional style of storytelling), funny mime vignettes, as well as personal stories from her childhood in Japan and her life as an immigrant in the U.S.


A native of Osaka, Japan, Motoko has been telling stories professionally since 1993. She came to the U.S. as an exchange student to the University of Massachusetts and early in her career trained with late master mime Tony Montanaro. She credits her partner Eshu Bumpus with introducing her to the world of American storytelling.

Motoko has appeared on Mr. Rogers' Neighborhood and has been featured in an educational video by Harcourt. Her debut CD, The Promise of Chrysanthemums won a 2002 Parents' Choice Silver Honor Award and a 2003 Storytelling World Award. Motoko has been showcased on the Exchange Place Stage at the National Storytelling Festival in Jonesborough, Tennessee, representing the Northeast region. and has toured Miyazaki, Japan, as a part of CarnegieKids in Miyazaki Project, sponsored by Carnegie Hall.

More about Motoko can be found at her web site, http://www.motoko.folktales.net/.

The warm-up theme this month is Houses.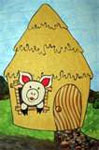 The Song & Story Swap is open to the public, free of charge with donations accepted. People of all ages gather to share stories and songs that are traditional, newly written, or of personal experiences. You can tell, sing, or lead everyone in singing, or request a song or story. Listeners are welcome.
For information contact Paul Kaplan, (413)-687-5002 or Jeff Lee, (413)-256-0433 or visit http://www.filbert.com/pvfs.
---
September shows of note: Bread & Puppet, Tom Juravich
The internationally known theater group, Bread and Puppet Theater, will perform their Sourdough Philosophy Cabaret at the Amherst Regional High School on Friday, September 18, at 7pm in the auditorium. Tickets are $8 for Students, Seniors and low income and $15 for all others. Tickets can be purchased at Food for Thought Bookstore, 106 North Pleasant Street in Amherst or Broadside Bookshop at 247 Main Street in Northampton. For info contact Kevin Eddings, 413-256-1984.
Labor champion, Tom Juravich will perform on Saturday, September 26, 7:30 p.m. at the Echo Lake Concert Series, 9 Montague Rd., Leverett, MA. The concert will be preceded by a pot luck supper at 6:00 p.m. Admission: $8-$10. For more info: 413-548-9394.
---
Agawam Celtic Series
Traditional Celtic concerts are scheduled monthly at The Captain Charles Leonard House, 663 Main Street, Agawam, Mass. All shows are at 7:30 p.m. Admission is $14 reserved, or $18 at the door. Call 413-789-9267 or email msullgreen@gmail.com.
September 19, 2009 - Cape Breton traditions with Nikki Maranchie Engstrom on fiddle and Janine Randal on piano, Sean Brennan guitar and vocals
October 17, 2009 -An Irish legend... Aoife Clancy
November 21, 2009 - Andrea Beaton and friends from Cape Breton Island, Canada
December 19, 2009 -Doug Lamey and Kimberley Fraser
January 16, 2010 - Sarah Michel and friends
February 20, 2010 - SONAS
March 13 and 14, 2010 - J J Chaisson and friends ..Saturday 7:30 Sunday 2:00
April 17, 2010 - Zoe Darrow and The Fiddle Heads
May 15, 2010 - The Milliners, Portland Maine's new super Celtic group
---
Note. If you would prefer to receive this monthly newsletter as plain text (no photos or formatting, but requires less space), please click on the link below:
If you would like to be removed from the mailing list click on the link below:
---
Pioneer Valley Folklore Society, Amherst, Mass.
Web site - http://www.filbert.com/pvfs/
Newsletter archives - http://www.filbert.com/pvfs/news/
Email - pvfolk@yahoo.com
Discussion forum and announcements - http://groups.google.com/group/PVFS
Director/Host: Paul Kaplan
Webmaster: Jeff Lee
September 1, 2009