| | |
| --- | --- |
| Pioneer Valley Folklore Society Happenings | November 2009 |
Contents
Singer-songwriter John Currie will join the November 7 Song & Story Swap
Sing Out for Single Payer concert features lustrous lineup on Nov. 10
---
John Currie will highlight November 7 Song & Story Swap
Please come share in an evening of music and stories at the Pioneer Valley Folklore Society Song & Story Swap.
Saturday, November 7 , 7:00-9:30 p.m. at the The Nacul Center, 592 Main St., Amherst, Mass (see map).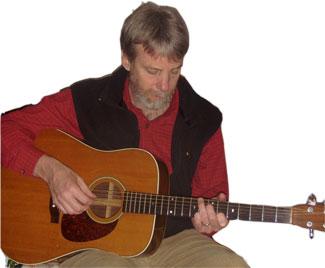 Guest performer at the November 7 Song & Story Swap will be singer and songwriter John Currie.
The reticent, but gifted John Currie has a passion for a well crafted song, a song that tells a story in three minutes. Accompanying himself on guitar and harmonica, he has been performing at clubs, cafes, fairs and festivals for the last two decades.
A native of Turners Falls and resident of Orange, many of John's songs reflect growing up in the Pioneer Valley, past and present. One of his compositions, The River, earned him first place among more than 60 entries in the Connecticut River Watershed Council's 2008 Songwriting Contest. Returning to the competition this year, he was once again a finalist with his song Seems to Know.
The warm-up theme this month is STUFF


The Song & Story Swap is open to the public, free of charge with donations accepted. People of all ages gather to share stories and songs that are traditional, newly written, or of personal experiences. You can tell, sing, or lead everyone in singing, or request a song or story. Listeners are welcome.
For information contact Paul Kaplan, (413)-687-5002 or Jeff Lee, (413)-256-0433 or visit http://www.filbert.com/pvfs.
---
Sing Out for Single Payer concert to be held Nov. 10 in Amherst

On Tuesday, November 10, 7:00 p.m. at the North Congregational Church in North Amherst, a stellar lineup will present a concert to benefit the Massachusetts Campaign for Single Payer Healthcare. Sing Out for Single Payer will feature Charlie King, Tracy Grammer & Jim Henry, Pat & Tex LaMountain, Jay Mankita, Roger Tincknell, Sarah Pirtle, and Annie Patterson, with emcee Peter Blood.
Tickets are available at the door begninning at 6:30 p.m. For info contact Alice at (413) 253-3197.
---
Note. If you would prefer to receive this monthly newsletter as plain text (no photos or formatting, but requires less space), please click on the link below:
If you would like to be removed from the mailing list click on the link below:
---
Pioneer Valley Folklore Society, Amherst, Mass.
Web site - http://www.filbert.com/pvfs/
Newsletter archives - http://www.filbert.com/pvfs/news/
Email - pvfolk@yahoo.com
Discussion forum and announcements - http://groups.google.com/group/PVFS
Director/Host: Paul Kaplan
Webmaster: Jeff Lee
November 3, 2009