| | |
| --- | --- |
| Pioneer Valley Folklore Society Happenings | December 2009 |
Contents
Songs and Stories of the Season will highlight the December 5 Song & Story Swap
---
Holiday group sing will highlight December 5 Song & Story Swap
Please come share in an evening of music and stories at the Pioneer Valley Folklore Society Song & Story Swap.
Saturday, December 5 , 7:00-9:30 p.m. at the The Nacul Center, 592 Main St., Amherst, Mass (see map).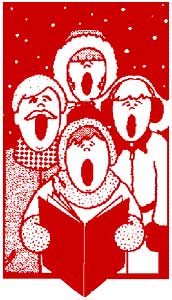 The December 5 Song & Story Swap will celebrate the season with a group sing. The event will be led by veteran musicians and song leaders Roger Conant, Elizabeth Farnsworth and Paul Kaplan.
Roger Conant is well known for the monthly "Rise Up Singing with Harmony" or "RUSH" sings that he organizes throughout the Pioneer Valley. Elizabeth Farnsworth is half of the folk duo Easy Wind, and is a former member of the Amandla Chorus. Paul Kaplan has forty years of experience as a folksinger and song leader, and is the regular host of the PVFS Song & Story Swap.
Lyric sheets will be available. Participants are invited to bring their own favorite holiday songs, stories and lyric sheets. All members of the public are heartily encouraged to come add their voices to this holiday songfest.
The theme this month is Songs and Stories of the Season


The Song & Story Swap is open to the public, free of charge with donations accepted. People of all ages gather to share stories and songs that are traditional, newly written, or of personal experiences. You can tell, sing, or lead everyone in singing, or request a song or story. Listeners are welcome.
For information contact Paul Kaplan, (413)-687-5002 or Jeff Lee, (413)-256-0433 or visit http://www.filbert.com/pvfs.
---
Note. If you would prefer to receive this monthly newsletter as plain text (no photos or formatting, but requires less space), please click on the link below:
If you would like to be removed from the mailing list click on the link below:
---
Pioneer Valley Folklore Society, Amherst, Mass.
Web site - http://www.filbert.com/pvfs/
Newsletter archives - http://www.filbert.com/pvfs/news/
Email - pvfolk@yahoo.com
Discussion forum and announcements - http://groups.google.com/group/PVFS
Director/Host: Paul Kaplan
Webmaster: Jeff Lee
December 1, 2009