| | |
| --- | --- |
| Pioneer Valley Folklore Society Happenings | January 2010 |
Contents
Green River String Band will join the January 2 Song & Story Swap
Lou Wigdor reviews Richard Shindell at the Iron Horse
---
Green River String Band will highlight January 2 Song & Story Swap
Please come share in an evening of music and stories at the Pioneer Valley Folklore Society Song & Story Swap.
Saturday, January 2, 7:00-9:30 p.m. at the The Nacul Center, 592 Main St., Amherst, Mass (see map).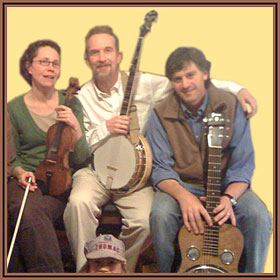 The talented Green River String Band will usher in 2010 at the January 2 Song and Story Swap.
The Green River String Band is the collaboration of musicians Charlie Conant, Doug Reid and Eveline MacDougall. Guitarist Conant and banjo picker Reid first played together in the late 1970s as members of the bluegrass Black Horse String Band. Charlie Conant has developed a considerable talent on the slide resonator guitar through a stint with the Conway Traditions and as co-founder of Katie Clarke and the Green River Band.
Fiddle player Eveline MacDougall is founder and artistic director of the renowned Amandla Chorus, and has put her skills to work to blend meticulous 3-part harmonies into the Green River String Band's original and traditional compositions.
Charlie Conant adds award-winning songwriting ablilities. He finished among the top three winners in the Connecticut River Watershed Council's Songwriting Contest for the past two years.
The theme this month is Good Deeds


The Song & Story Swap is open to the public, free of charge with donations accepted. People of all ages gather to share stories and songs that are traditional, newly written, or of personal experiences. You can tell, sing, or lead everyone in singing, or request a song or story. Listeners are welcome.
For information contact Paul Kaplan, (413)-687-5002 or Jeff Lee, (413)-256-0433 or visit http://www.filbert.com/pvfs.
---
Concert Review - Richard Shindell at the Iron Horse

We welcome back music commentator Lou Wigdor who has filed another dispatch to Lou's Reviews, his report on the November performance by Richard Shindell at the Iron Horse. See Richard Shindell at the Iron Horse.
---
Note. If you would prefer to receive this monthly newsletter as plain text (no photos or formatting, but requires less space), please click on the link below:
If you would like to be removed from the mailing list click on the link below:
---
Pioneer Valley Folklore Society, Amherst, Mass.
Web site - http://www.filbert.com/pvfs/
Newsletter archives - http://www.filbert.com/pvfs/news/
Email - pvfolk@yahoo.com
Discussion forum and announcements - http://groups.google.com/group/PVFS
Director/Host: Paul Kaplan
Webmaster: Jeff Lee
December 28, 2009