| | |
| --- | --- |
| Pioneer Valley Folklore Society Happenings | February 2010 |
Contents
Lui Collins will join the February 6 Song & Story Swap
Panharmonium seeks musicians
---
Lui Collins will be guest artist at February 6 Song & Story Swap
Please come share in an evening of music and stories at the Pioneer Valley Folklore Society Song & Story Swap.
Saturday, February 6, 7:00-9:30 p.m. at the The Nacul Center, 592 Main St., Amherst, Mass (see map).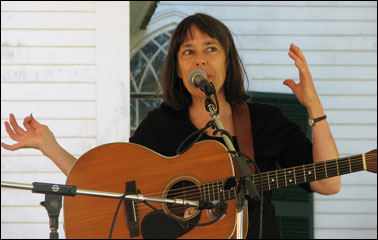 We are thrilled to present Lui Collins at the February 6 Song and Story Swap.
Lui Collins has been performing, writing and recording for over 35 years, earning international acclaim for her music. A native Vermonter, she majored in music theory at the University of Connecticut before abandoning formal study to pursue a path in folk music. She established her reputation in the early eighties with the release of the Philo and Green Linnet recordings, Made in New England, Baptism of Fire, and There's a Light.
Lui later founded her own label, Molly Gamblin Music, and now has 8 solo CD's to her credit. The most recent, Closer, was released in 2006. Her collection of poetry, Moon of Ripe Berries, (2001) is now in its third printing.
An accomplished vocalist, guitarist, and banjo player, Lui Collins possesses a unique gift for blending traditional themes with a modern songwriting style. In addition to performing and composing, she is the founder of Hilltown Music Together and in 2007 she began development of Kids' Jam, an educational program for 5-7 year-olds.
The Boston Globe has dubbed Lui Collins "one of New England's first and brightest stars." Sing Out! Magazine calls her "incomparable."
Learn more about Lui Collins and her music at http://www.luicollins.com.
The theme this month is Winter


The Song & Story Swap is open to the public, free of charge with donations accepted. People of all ages gather to share stories and songs that are traditional, newly written, or of personal experiences. You can tell, sing, or lead everyone in singing, or request a song or story. Listeners are welcome.
For information contact Paul Kaplan, (413)-687-5002 or Jeff Lee, (413)-256-0433 or visit http://www.filbert.com/pvfs.
---
Panharmonium seeks musicians
Panharmonium, the house band for Amherst International Folkdancing, is seeking musicians/singers to round out our group -- especially string players (e.g., fiddle, tambura, gadulka) and bass parts (brass or string). We play international music for dancing, primarily from Balkan and Middle Eastern countries.
Panharmonium rehearses on Tuesday evenings in Amherst, MA; we perform monthly at the Bangs Community Center in Amherst, mainly on First Fridays. For more information, please contact Eugene Goldwater at (413) 549-6748 or egoldwater@oit.umass.edu.
---
Note. If you would prefer to receive this monthly newsletter as plain text (no photos or formatting, but requires less space), please click on the link below:
If you would like to be removed from the mailing list click on the link below:
---
Pioneer Valley Folklore Society, Amherst, Mass.
Web site - http://www.filbert.com/pvfs/
Newsletter archives - http://www.filbert.com/pvfs/news/
Email - pvfolk@yahoo.com
Discussion forum and announcements - http://groups.google.com/group/PVFS
Director/Host: Paul Kaplan
Webmaster: Jeff Lee
February 1, 2010