| | |
| --- | --- |
| Pioneer Valley Folklore Society Happenings | March 2010 |
Contents
Charlie King & Karen Brandow will perform at March 6 Song & Story Swap
---
Charlie King & Karen Brandow will join March 6 Song & Story Swap
Please come share in an evening of music and stories at the Pioneer Valley Folklore Society Song & Story Swap.
Saturday, March 6, 7:00-9:30 p.m. at the The Nacul Center, 592 Main St., Amherst, Mass (see map).
Guest performers at the March 6 Song & Story Swap will be the widely appreciated folksinging duo Charlie King and Karen Brandow.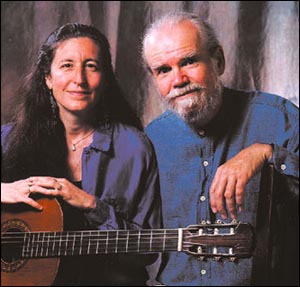 Charlie King and Karen Brandow are musical storytellers and political satirists. In addition to a full time career of concert touring, King and Brandow have sung in support of numerous groups working for peace, human rights, environmental sanity and alternatives to violence. They perform an exquisitely selected repertoire with the sweet and precise harmonies of life partners.
"Two voices that complement each other beautifully & instrumentation that is spare, acoustic & just right" is how they have been described by the Victory Music Review.
Karen Brandow has been performing with Charlie King since 1998. While doing human rights work in Guatemala from 1986-1994, Karen studied voice, performance and classical guitar. She performed at political and cultural events in that country as a soloist and was a founding member of the a cappella singing group, the Non-Traditional Imports.
Charlie King has been at the heart of American folk music for over 40 years. His songs have been recorded and sung by other performers such as Pete Seeger, Holly Near, Ronnie Gilbert, John McCutcheon, Arlo Guthrie, Peggy Seeger, Chad Mitchell and Judy Small. Honors include an Indie award for one of the top three American folk recordings of 1984. In May of 1998 the War Resisters League gave their Peacemaker Award to Charlie and to Odetta. Pete Seeger nominated Charlie for the Sacco-Vanzetti Social Justice Award, which he received in November 1999. He is founder of the People's Music Network for Songs of Freedom and Struggle. Charlie has released a dozen solo albums since 1976. He has also released three albums with the touring ensemble Bright Morning Star.
Donations will benefit the National Priorities Project, which analyzes and clarifies federal data so that people can understand and influence how their tax dollars are spent..
Matt Watroba of WDET Detroit offered this assessment of I Struck Gold, Charlie King and Karen Brandow's first duo recording: "Exactly what a folk music recording should be — songs that make you think, laugh, weep and dance."
Learn more about Charlie King and Karen Brandow at http://www.charlieking.org.
The theme this month is Strong Women


The Song & Story Swap is open to the public, free of charge with donations accepted. People of all ages gather to share stories and songs that are traditional, newly written, or of personal experiences. You can tell, sing, or lead everyone in singing, or request a song or story. Listeners are welcome.
For information contact Paul Kaplan, (413)-687-5002 or Jeff Lee, (413)-256-0433 or visit http://www.filbert.com/pvfs.
---
Note. If you would prefer to receive this monthly newsletter as plain text (no photos or formatting, but requires less space), please click on the link below:
If you would like to be removed from the mailing list click on the link below:
---
Pioneer Valley Folklore Society, Amherst, Mass.
Web site - http://www.filbert.com/pvfs/
Newsletter archives - http://www.filbert.com/pvfs/news/
Email - pvfolk@yahoo.com
Discussion forum and announcements - http://groups.google.com/group/PVFS
Director/Host: Paul Kaplan
Webmaster: Jeff Lee
March 1, 2010