| | |
| --- | --- |
| Pioneer Valley Folklore Society Happenings | April 2010 |
Contents
Sue Kranz & Paul Kaplan will perform at April Song & Story Swap
---
Sue Kranz & Paul Kaplan will highlight April 3 Song & Story Swap
Please come share in an evening of music and stories at the Pioneer Valley Folklore Society Song & Story Swap.
Saturday, April 3, 7:00 p.m. at the The Nacul Center, 592 Main St., Amherst, Mass (see map).
Guest performers at the April 3 Song & Story Swap will be folksinger-songwriters Sue Kranz & Paul Kaplan, who are joining forces based on their mutual respect and amazingly similar musical tastes and sensibility.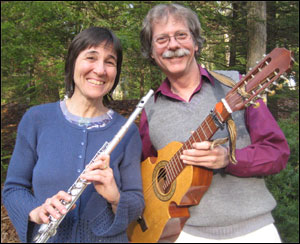 Sue Kranz, singer, songwriter and flutist, has been performing for the past 30 years, in coffeehouses, house concerts, weddings, benefits, schools, and classrooms.
An elementary school Spanish teacher by profession, she uses music to build a sense of community as well as a teaching tool. She has recently moved to Western Massachusetts from Boston where she taught in the Cambridge Schools for over 20 years. She is a member of the 6 woman performing group Constellations, and has three recordings including Long Past the Hour, a collection of original songs.
Paul Kaplan's involvement with the singer-songwriter movement was sparked by his early love of the songs of Bob Dylan, Phil Ochs and Tom Paxton. He pursued that love as a frequent attendee at the Songwriters' Exchange at the Cornelia Street Cafe, in New York, and as a regular contributor to The Fast Folk Musical Magazine, in which ten of his songs were included. In the late 1970s, Paul had the opportunity to produce three posthumous albums by one of his heroes, Phil Ochs.

In recent years Paul has been honored by the inclusion of his songs in two monumental historical collections produced by Smithsonian Folkways. One of his first songs, "Vietnam," appears in the Grammy-nominated Best of Broadside, produced in 2000. A second song, "King of Hearts," is featured in Fast Folk—a Community of Singers & Songwriters, released in 2002.

Find out more about Paul Kaplan at his web site, http://www.paulkaplanmusic.com.
The theme this month is Luck


The Song & Story Swap is open to the public, free of charge with donations accepted. People of all ages gather to share stories and songs that are traditional, newly written, or of personal experiences. You can tell, sing, or lead everyone in singing, or request a song or story. Listeners are welcome.
For information contact Paul Kaplan, (413)-687-5002 or Jeff Lee, (413)-256-0433 or visit http://www.filbert.com/pvfs.
---
Note. If you would prefer to receive this monthly newsletter as plain text (no photos or formatting, but requires less space), please click on the link below:
If you would like to be removed from the mailing list click on the link below:
---
Pioneer Valley Folklore Society, Amherst, Mass.
Web site - http://www.filbert.com/pvfs/
Newsletter archives - http://www.filbert.com/pvfs/news/
Email - pvfolk@yahoo.com
Discussion forum and announcements - http://groups.google.com/group/PVFS
Director/Host: Paul Kaplan
Webmaster: Jeff Lee
March 29, 2010