| | |
| --- | --- |
| Pioneer Valley Folklore Society Happenings | September 2010 |
Contents
Shingle the Roof will join June 5 Song & Story Swap
An Evening with Rani Arbo & Daisy Mayhem on Sept 4
---
Rani Arbo & Daisy Mayhem will give concert on September 4
The Pioneer Valley Folklore Society is honored to announce a special event — An Evening with Rani Arbo and Daisy Mayhem.

The concert will take place on Saturday, September 4, 7:00 p.m., at the Nacul Center, 592 Main St., Amherst, MA (see map).
All of roots music is a stage for daisy mayhem, and this four-piece string band loves nothing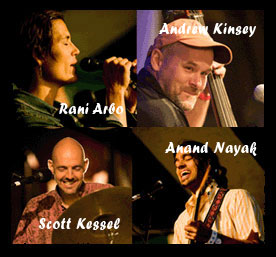 more than choreographing a jubilant mix of traditional, original, and contemporary sounds. With Arbo's bewitching alto at the helm, stunning vocal harmonies, a 100% recycled drum set, fiddle, guitar, and bass, daisy mayhem "has a grand knack for pumping new blood into old music" (The Boston Globe).
With influences from Doc Watson to Django Reinhardt, from Ghanaian drumming to the funky Meters, and from Fiddlin' John Carson to Bob Dylan, Daisy Mayhem celebrates America's rich musical past and brings it into the present with good humor, impeccable musicianship, powerful songwriting, and a clear love of playing together. Here are four musicians who pick up what's lying around-from tin cans to old songs and wry observations of modern life-and create something new.
The group is comprised of fiddler and lead singer, Rani Arbo; her former Salamander Crossing bandmate, bassist Andrew Kinsey; Scott Kessel on the "Drumship Enterprise"; and guitarist extraordinaire Anand Nayak. Their recent CD, Ranky Tanky, has garnered a Parents Choice Gold Award and has been dubbed "the soundtrack to summer."
Admission for the concert is $18 ($15 for seniors and children under 13).
Advance tickets may be purchased at Food For Thought Books, 106 N. Pleasant
St., Amherst, MA or at the World Eye Bookshop, 156 Main St., Greenfield, MA.
Find additional information about Rani Arbo & Daisy Mayhem at http://raniarbo.com.
For information about the concert contact Paul Kaplan, (413)-687-5002 or visit http://www.filbert.com/pvfs.
---
Note. If you would prefer to receive this monthly newsletter as plain text (no photos or formatting, but requires less space), please click on the link below:
If you would like to be removed from the mailing list click on the link below:
---
Pioneer Valley Folklore Society, Amherst, Mass.
Web site - http://www.filbert.com/pvfs/
Newsletter archives - http://www.filbert.com/pvfs/news/
Email - pvfolk@yahoo.com
Discussion forum and announcements - http://groups.google.com/group/PVFS
Director/Host: Paul Kaplan
Webmaster: Jeff Lee
August 30, 2010