| | |
| --- | --- |
| Pioneer Valley Folklore Society Happenings | January 2011 |
Contents
Ed Vadas and Sue Burkhart — Ameri-MF-cana will join January 8 Song & Story Swap
---
Ameri-MF-cana will join January 8 Song & Story Swap
Please come share in an evening of music and stories at the Pioneer Valley Folklore Society Song & Story Swap.
Saturday, January 8, 7:00 p.m. at the The Nacul Center, 592 Main St., Amherst, Mass (see map).
Guest performers for the January 8 Song & Story Swap will be blues guitar and Americana song duo Ameri-MF-cana.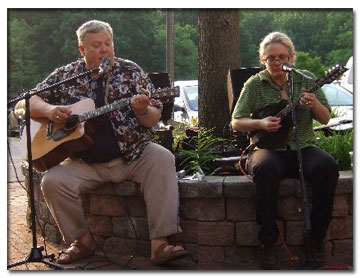 Veteran music writer and editor, Dave Sokol says they are "an arresting blend of folk, Jazz, old timey, and purely original material performed in an eclectic, humorous, sophisticated, and slightly twisted manner all drenched in a rich slathering sauce of blues!"

Sue Burkhart and Ed Vadas have joined together to form a duo dedicated to performing only songs they truely enjoy and that never quite fit into what they were performing throughout their seperate musical careers.

Their common description of the type of music they perform has been "a sort of Americana." While accurate, it sounded corny to them, so they spiced it up a bit to "Ameri-MF-cana" which more typifies their humorous repartee and reenforces the fact that most of their tunes deal with the "M"ale/"F"emale condition. Sue likes to say "We put the MF back in Americana."

Ed Vadas has been a celebrated bluesman since the seventies, as a performer, recording artist and producer. He has played with such greats as Otis Rush, Pinetop Perkins and Bo Diddley.

Sue Burkhart is a classically trained guitarist with a penchant for jazz and blues and a sense of humor to match her bandmate's. She has played lead for the Latin band, Viva Quetzal and the rock band Superkart, and accompanies guitar whiz Brooks Williams on occasion.

Ameri-MF-cana promise to offer a rewarding evening of entertainment and musicianship.

Learn more about Ameri-MF-cana at http://Ameri-mf-cana.com.

The theme this month is Dreams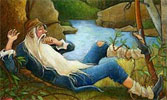 The Song & Story Swap is open to the public, free of charge with donations accepted. People of all ages gather to share stories and songs that are traditional, newly written, or of personal experiences. You can tell, sing, or lead everyone in singing, or request a song or story. Listeners are welcome.
For information contact Paul Kaplan at (413)-687-5002 or visit http://www.filbert.com/pvfs
---
Note. If you would prefer to receive this monthly newsletter as plain text (no photos or formatting, but requires less space), please click on the link below:
If you would like to be removed from the mailing list click on the link below:
---
Pioneer Valley Folklore Society, Amherst, Mass.
Web site - http://www.filbert.com/pvfs/
Newsletter archives - http://www.filbert.com/pvfs/news/
Email - pvfolk@yahoo.com
Discussion forum and announcements - http://groups.google.com/group/PVFS
Director/Host: Paul Kaplan
Webmaster: Jeff Lee
January 3, 2011