| | |
| --- | --- |
| Pioneer Valley Folklore Society Happenings | February 2011 |
Contents
Michael Silverstone will join February 5 Song & Story Swap
---
Michael Silverstone will join February 5 Song & Story Swap
Please come share in an evening of music and stories at the Pioneer Valley Folklore Society Song & Story Swap.
Saturday, February 5, 7:00 p.m. at the The Nacul Center, 592 Main St., Amherst, Mass (see map).
Guest performer for the February 5 Song & Story Swap will be singer-songwriter Michael Silverstone.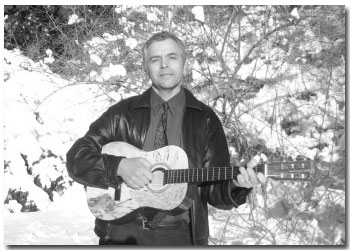 Decades in the making, Michael Silverstone's emergence as a songwriter has surprised many, himself included. A local elementary schoolteacher and author of a number of acclaimed non-fiction books for young people, his first career was in literary publishing, editing and working with luminaries such as Allen Ginsberg, autobiographical storyteller Spalding Gray and Hunter S. Thompson. A prolific and accomplished songwriter in the late 1970s, an unexpected recent collaboration with songwriter Marc Cohn (Grammy Award winning performer-songwriter of the 1994 hit "Walking in Memphis") resulted in an ASCAP songwriting credit for "Live Out the String" (On Cohn's album Join the Parade) a song which has been performed nationally on The Today Show and The Ellen DeGeneres Show.
His growing catalog of songs shows influences including John Lennon, Elvis Costello, Randy Newman and Aimee Mann. Michael is known locally as veteran host of the Thursday night Open Mic at the Yellow Sofa Cafe in Northampton. He will be joined by "Mr. Silverstone and the Silvertone Horns."
A sampling of Michael Siverstone's songs can be found online at http://michaelsilverstone.bandcamp.com.
The theme this month is Elementary School

The Song & Story Swap is open to the public, free of charge with donations accepted. People of all ages gather to share stories and songs that are traditional, newly written, or of personal experiences. You can tell, sing, or lead everyone in singing, or request a song or story. Listeners are welcome.
For information contact Paul Kaplan at (413)-687-5002 or visit http://www.filbert.com/pvfs
---
Note. If you would prefer to receive this monthly newsletter as plain text (no photos or formatting, but requires less space), please click on the link below:
If you would like to be removed from the mailing list click on the link below:
---
Pioneer Valley Folklore Society, Amherst, Mass.
Web site - http://www.filbert.com/pvfs/
Newsletter archives - http://www.filbert.com/pvfs/news/
Email - pvfolk@yahoo.com
Discussion forum and announcements - http://groups.google.com/group/PVFS
Director/Host: Paul Kaplan
Webmaster: Jeff Lee
February 2, 2011