| | |
| --- | --- |
| Pioneer Valley Folklore Society Happenings | March 2011 |
Contents
Singer-songwriter Erica Wheeler will join March 5 Song & Story Swap
---
Erica Wheeler will join March 5 Song & Story Swap
Please come share in an evening of music and stories at the Pioneer Valley Folklore Society Song & Story Swap.
Saturday, March 5, 7:00 p.m. at the The Nacul Center, 592 Main St., Amherst, Mass (see map).
Guest performer will be folksinger, guitarist and environmental advocate, Erica Wheeler.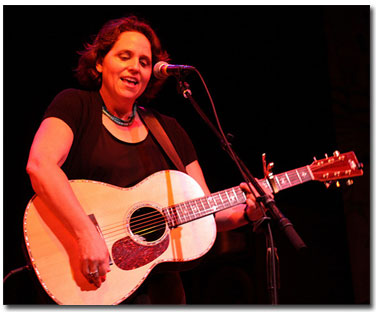 A prominent voice on the national singer/songwriter circuit for two decades, Erica Wheeler has released six critically acclaimed CDs. Her songs have charted in the top ten on Billboard's Gavin Americana chart, and she has been a featured guest on syndicated radio programs such as Voice of America and NPR's All Things Considered. Her most recent CD, Good Summer Rain, was sponsored in part by The Trust for Public Land, a national land conservation organization.

Erica started college with wildlife field biology in mind, but ultimately, she chose music—or it chose her— going on to become an award-winning singer-songwriter whose work is deeply rooted in the natural world and a sense of place. Armed with a acoustic guitar and her richly expressive voice, Erica's music fits nicely into the folk, bluegrass and Americana categories. She is also well know for her engaging warmth and hilarious stage patter.

Erica combines her career in the performing arts with her lifelong interest in natural history, cultural history and conservation issues to offer her Soulful Landscape keynotes, concerts and workshops at conferences, events and learning centers across the country, from Yosemite National Park (CA) to the Thoreau Institute (MA). Her work connecting people and place has been featured in national publications such as Orion, Yankee, and Yes! Magazines.

Learn more about Erica Wheeler at http://ericawheeler.com/.

The theme this month is Spring Fever

The Song & Story Swap is open to the public, free of charge with donations accepted. People of all ages gather to share stories and songs that are traditional, newly written, or of personal experiences. You can tell, sing, or lead everyone in singing, or request a song or story. Listeners are welcome.
For information contact Paul Kaplan at (413)-687-5002 or visit http://www.filbert.com/pvfs
---
Note. If you would prefer to receive this monthly newsletter as plain text (no photos or formatting, but requires less space), please click on the link below:
If you would like to be removed from the mailing list click on the link below:
---
Pioneer Valley Folklore Society, Amherst, Mass.
Web site - http://www.filbert.com/pvfs/
Newsletter archives - http://www.filbert.com/pvfs/news/
Email - pvfolk@yahoo.com
Discussion forum and announcements - http://groups.google.com/group/PVFS
Director/Host: Paul Kaplan
Webmaster: Jeff Lee
March 1, 2011