| | |
| --- | --- |
| Pioneer Valley Folklore Society Happenings | April 2011 |
Contents
Eva Cappelli & the Watershops Band will join April 2 Song & Story Swap
uNi Coffeehouse spring schedule
---
Eva Cappelli & the Watershops Band will join April 2 Song & Story Swap
Please come share in an evening of music and stories at the Pioneer Valley Folklore Society Song & Story Swap.
Saturday, April 2 , 7:00 p.m. at the The Nacul Center, 592 Main St., Amherst, Mass (see map).
Guest performers will be Eva Cappelli & the Watershops Band .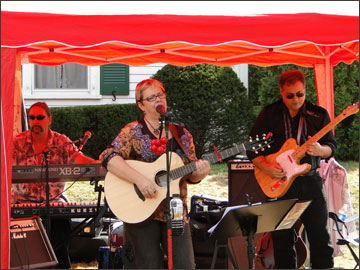 Eva Cappelli's music is a lively mix of blues, folk, country, rock, "torch songs" with 1940s-50s styling, latin/tex-mex, and a wide range of other popular and ethnic styles. Lead guitarist Joe Carvalho and Accordion player Larry Dulong add inspired and versatile accompaniment. Together they are Eva Cappelli and the Watershops Band, named for the Springfield lake near Carvalho's home.

Cappelli's songwriting style is personal, revealing a life overcoming obstacles. In essence, her work comprises a series of musical "stories" celebrating a woman's survival in a hard world.

The group has produced 2 CDs, including 2009's Valentine, named by LiveWire as one of the best local albums of the year. They are working on a new recording, Bits and Bobs, scheduled for release this spring.

Learn more about Eva Cappelli and the Watershops Band at http://evacappelli.com.

The theme this month is Fool.

The Song & Story Swap is open to the public, free of charge with donations accepted. People of all ages gather to share stories and songs that are traditional, newly written, or of personal experiences. You can tell, sing, or lead everyone in singing, or request a song or story. Listeners are welcome.
For information contact Paul Kaplan at (413)-687-5002 or visit http://www.filbert.com/pvfs
---
uNi Coffeehouse Concert Series Schedule - Spring 2011 Revised
Ed Brown announces that the April 9 uNi Coffehouse program in Springfield has changed. All concerts will be held at the

Unitarian Universalist Society Meetinghouse
245 Porter Lake Drive, Springfield, MA

Information/reservations (413) 562-3990 or website: uNiCoffeehouse.org
All concerts Saturdays at 7:30 p. m.
All of these concerts are $15 at the door

April 9 Charlie King and Karen Brandow - topical songs delivered with harmony, humor and hope. They sing and write passionately about the extraordinary lives of ordinary people and in support of peace, human rights, environmental sanity and alternatives to violence.
May 14 Finest Kind: Ian Robb, Shelley Posen, Ann Downey - This remarkable folk trio from Ottawa, Canada features soaring harmony singing and brilliant vocal arrangements bringing a fresh sense of excitement and discovery to the performance of old songs ... plus their easy-going audience-pleasing humor to boot.
---
Note. If you would prefer to receive this monthly newsletter as plain text (no photos or formatting, but requires less space), please click on the link below:
If you would like to be removed from the mailing list click on the link below:
---
Pioneer Valley Folklore Society, Amherst, Mass.
Web site - http://www.filbert.com/pvfs/
Newsletter archives - http://www.filbert.com/pvfs/news/
Email - pvfolk@yahoo.com
Discussion forum and announcements - http://groups.google.com/group/PVFS
Director/Host: Paul Kaplan
Webmaster: Jeff Lee
March 29, 2011