| | |
| --- | --- |
| Pioneer Valley Folklore Society Happenings | May 2011 |
Contents
Tim Eriksen will join May 7 Song & Story Swap
Lou's Reviews - Mahmoud Ahmed and the Either/Orchestra
---
Tim Eriksen will join May 7 Song & Story Swap
Please come share in an evening of music and stories at the Pioneer Valley Folklore Society Song & Story Swap.
Saturday, May 7, 8:00 p.m. at the The Nacul Center, 592 Main St., Amherst, Mass (see map). Please note that the event starts at 8pm this month, an hour later than usual.
Guest performer will be nationally acclaimed folk artist Tim Eriksen.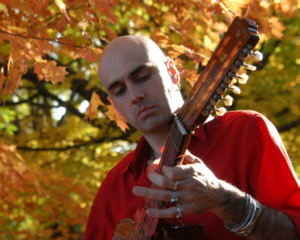 Tim Eriksen is "widely regarded as the best ballad singer of his generation" (BBC Radio). He combines hair-raising vocals with savvy arrangements for fiddle, banjo, guitar and bajo sexto, transforming American tradition with a "northern roots" Americana sound that embraces old New England murder ballads, shape-note gospel and haunted originals alongside Southern Appalachian and Irish songs. Tim's new album Soul of the January Hills, featuring fourteen songs for solo unaccompanied voice, is hardcore Americana at its most elemental.

Considered "among the world's finest folk practitioners" (Toronto Star) for his expertise in traditional song, Tim is also known for his own compositions - "strange and original works" (NetRhythmsUK) with a "rare sense of purpose" (Q Magazine) that have been included in films like the Billy Bob Thornton vehicle, "Chrystal" and the upcoming feature documentary "Behold the Earth." Eriksen's other notable work has included extensive contributions to Anthony Minghella's 2004 Oscar-winning film Cold Mountain as well as collaborations ranging from hardcore punk and Bosnian pop to symphony orchestra and the 2010 Grammy-nominated album Across the Divide with Afro-Cuban world-jazz phenomenon Omar Sosa.

The former frontman of the prophetic groups Cordelia's Dad ("folk-noise"), Northampton Harmony (shape-note quartet) and Zabe i Babe (Bosnian folk and pop), Tim Eriksen is the only musician to have shared the stage with both Kurt Cobain and Doc Watson (not to mention Jack White and Ralph Stanley), and his media appearances have ranged from Prairie Home Companion to the Academy Awards. Having graduated from early shows at punk mecca CBGB, Tim's more recent performances have included his Carnegie Hall debut as a soloist in Evan Chambers' symphonic work The Old Burying Ground (Dorian/Sono Luminus 2010) and two week-long stints at the Blue Note Jazz Club with Omar Sosa. In the studio, he has worked with producers including Joe Boyd, T-Bone Burnett and Steve Albini.

An alumnus of Amherst College, Tim Eriksen has taught college classes on American Balladry, Global Sounds and Songwriting, and has conducted extensive scholarly research on New England shape-note singing.

Learn more about Tim Eriksen at http://timeriksenmusic.com/.

The theme this month is Flowers.

The Song & Story Swap is open to the public, free of charge with donations accepted. People of all ages gather to share stories and songs that are traditional, newly written, or of personal experiences. You can tell, sing, or lead everyone in singing, or request a song or story. Listeners are welcome.
For information contact Paul Kaplan at (413)-687-5002 or visit http://www.filbert.com/pvfs
---
Review by Lou - Mahmoud Ahmed and the Either/Orchestra
Music critic Lou Wigdor has opened up his own space on the web where he offers not only discerning music reviews. but enlightening "excursions into lateral thinking."
Entranced at Amherst College presents Lou's commentary on a recent concert by Ethiopian trance music luminary Mahmoud Ahmed, with backup by Boston's Either/Orchestra.
Visit http://wigpen.blogspot.com/2011/03/entranced-at-amherst-college.html.
---
Note. If you would prefer to receive this monthly newsletter as plain text (no photos or formatting, but requires less space), please click on the link below:
If you would like to be removed from the mailing list click on the link below:
---
Pioneer Valley Folklore Society, Amherst, Mass.
Web site - http://www.filbert.com/pvfs/
Newsletter archives - http://www.filbert.com/pvfs/news/
Email - pvfolk@yahoo.com
Discussion forum and announcements - http://groups.google.com/group/PVFS
Director/Host: Paul Kaplan
Webmaster: Jeff Lee
May 1, 2011