| | |
| --- | --- |
| Pioneer Valley Folklore Society Happenings | January 2012 |
Contents
Jackson Gillman will join January 7 Song & Story Swap
---
Storyteller Jackson Gillman will join January 7 Song & Story Swap
Please come share in an evening of music and stories at the Pioneer Valley Folklore Society Song & Story Swap.
Saturday, January 7, 7:00 p.m. at the The Nacul Center, 592 Main St., Amherst, Mass (see map).
Guest performer for the January 7 Song & Story Swap will be The Stand-up Chameleon, Jackson Gillman.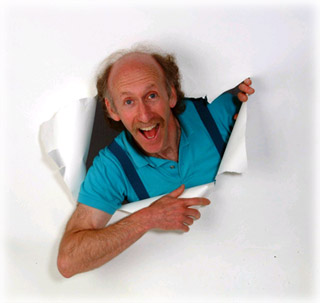 Jackson Gillman magically transforms himself into a wide array of eccentric characters through his many talents as mime, actor, songsmith and storyteller. His interactive performances are seasoned with skillful dialect, song, dance, mime and sign language. Shining through Jackson's wit and versatility is a bemused, warm-hearted honesty. Jackson's humor evolves from finding that which is funny in human beings trying to be human and often tripping over their own being in the attempt.

Jackson Gillman has been a featured performer at the National Storytelling Festival in Tennessee, and has performed at festivals and schools throughout the country. For twenty years Jackson hosted a summer concert series of comedy, music and New Vaudeville on Mount Desert Island in Maine. His recordings include Just So, a re-telling of Rudyard Kipling's stories, and Downeast Ballads, a collection of yarns and songs by Ruth Moore, Gordon Bok and others.

Learn more about Jackson Gillman at http://www.jacksongillman.com.

The theme this month is Teachers.

The Song & Story Swap is open to the public, free of charge with donations accepted. People of all ages gather to share stories and songs that are traditional, newly written, or of personal experiences. You can tell, sing, or lead everyone in singing, or request a song or story. Listeners are welcome.
For information contact Paul Kaplan, (413)-687-5002 or Jeff Lee, (413)-256-0433 or visit http://www.filbert.com/pvfs.
---
Note. If you would prefer to receive this monthly newsletter as plain text (no photos or formatting, but requires less space), please click on the link below:
If you would like to be removed from the mailing list click on the link below:
---
Pioneer Valley Folklore Society, Amherst, Mass.
Web site - http://www.filbert.com/pvfs/
Newsletter archives - http://www.filbert.com/pvfs/news/
Email - pvfolk@yahoo.com
Discussion forum and announcements - http://groups.google.com/group/PVFS
Director/Host: Paul Kaplan
Webmaster: Jeff Lee
January 2, 2012