| | |
| --- | --- |
| Pioneer Valley Folklore Society Happenings | February 2012 |
Contents
Singer-songwriter Carrie Ferguson will join February 4 Song & Story Swap
---
Singer-Songwriter Carrie Ferguson will join February 4 Song & Story Swap
Please come share in an evening of music and stories at the Pioneer Valley Folklore Society Song & Story Swap.
Saturday, February 4, 7:00 p.m. at the The Nacul Center, 592 Main St., Amherst, Mass (see map).
Guest performer for the February 4 Song & Story Swap will be singer-songwriter Carrie Ferguson.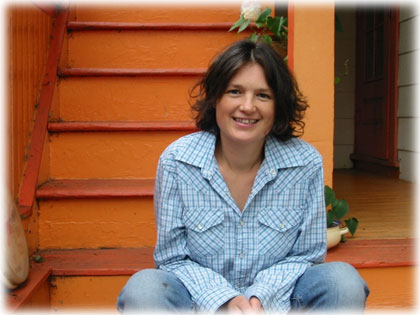 Carrie Ferguson grew up in Arcata on the North Coast of California playing an enormous, third-hand, upright piano. She credits the stubborn and sonorous voice of her childhood instrument, combined with the perpetual fog and exhilarating clamminess of coastal Northern California, as instilling in her the baseline aesthetic of melancholic optimism that still permeates her words and music today.

Carrie started performing her songs in 1990 and has been going non-stop ever since, performing either solo or with her band, The Cherry Street Band. She has opened for Antje Duvekot, Cheryl Wheeler, Anne Heaton, and The Mammals, and has shared festival bills with Melissa Ferrick, Catie Curtis, Toshi Reagan, and The Stone Coyotes.

In 2010 Carrie celebrated the release of her first full-length solo CD, "Riding On the Back of The Wind," with a sold out show at the Iron Horse Music Hall. The recording is a catchy, exuberant collection of melodic story pop bursting with Ferguson's trademark joyful melancholy and featuring Pioneer Valley musicians Jim Henry on guitar, mandolin and dobro, J.J.
O'Connell on drums, Mark Schwaber on bass, and Emily Breines on violin.

Learn more about Carrie Ferguson at http://carriefergusonmusic.com.

The theme this month is Animals.

The Song & Story Swap is open to the public, free of charge with donations accepted. People of all ages gather to share stories and songs that are traditional, newly written, or of personal experiences. You can tell, sing, or lead everyone in singing, or request a song or story. Listeners are welcome.
For information contact Paul Kaplan, (413)-687-5002 or Jeff Lee, (413)-256-0433 or visit http://www.filbert.com/pvfs.
---
John Roberts and Debra Cowan will play Ashfield on Feb. 10
Two of traditional folk's finest interpreters, John Roberts and Debra Cowan, will give a concert on February 10 at the Ashfield Community Hall, 521 Main St., Ashfield, MA. The show begins at 7pm, and general admission is $15.
For more info contact Maude's Music at (413) 835-6956.
---
Note. If you would prefer to receive this monthly newsletter as plain text (no photos or formatting, but requires less space), please click on the link below:
If you would like to be removed from the mailing list click on the link below:
---
Pioneer Valley Folklore Society, Amherst, Mass.
Web site - http://www.filbert.com/pvfs/
Newsletter archives - http://www.filbert.com/pvfs/news/
Email - pvfolk@yahoo.com
Discussion forum and announcements - http://groups.google.com/group/PVFS
Director/Host: Paul Kaplan
Webmaster: Jeff Lee
January 30, 2012