| | |
| --- | --- |
| Pioneer Valley Folklore Society Happenings | March 2012 |
Contents
Storyteller Davis Bates will join March 3 Song & Story Swap
---
Storyteller Davis Bates will join March 3 Song & Story Swap
Please come share in an evening of music and stories at the Pioneer Valley Folklore Society Song & Story Swap.
Saturday, March 3, 7:00 p.m. at the The Nacul Center, 592 Main St., Amherst, Mass (see map).
Guest performer for the March 3 Song & Story Swap will be storyteller Davis Bates.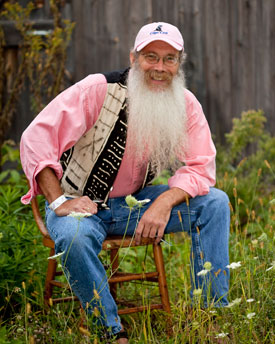 Davis has been telling stories for over thirty-three years (longer according to his mom). Folk traditions legend Pete Seeger has inspired his work and has, in turn, called Davis "thoughtful, creative, human, and a fantastic storyteller." Davis's traditional and participatory style of telling is a empowers and encourages audiences of all ages to take the stories home with them to share with others, whether he is relating an age old international folktale, or a story about his grandparents. He also encourages listeners to remember and tell stories from their own family and cultural tradition, and to explore the cultural traditions of their surrounding community.
A former Director of the Pioneer Valley Folklore Society and the Leyden Oral History project, Davis was a founding member of the Western New England Storytellers Guild, as well as the co-coordinator of Story Grove performance stage at Clearwater's Great Hudson River Revival for over 10 years.
His storytelling recording, Family Stories, won a prestigious Parents Choice Magazine Gold Award, and was named one of the best audio recordings of by the American Library Association's Booklist magazine. Davis lives with his two children in the village of Shelburne Falls, MA, and when he isn't collecting or learning stories he spends his time working at Dancing Bear Farm in Leyden, MA, helping to heirloom vegetables and flowers for local and regional markets.
Learn more about Davis Bates at http://www.davisbates.com/.
The theme this month is Broken Love.

The Song & Story Swap is open to the public, free of charge with donations accepted. People of all ages gather to share stories and songs that are traditional, newly written, or of personal experiences. You can tell, sing, or lead everyone in singing, or request a song or story. Listeners are welcome.
For information contact Paul Kaplan, (413)-687-5002 or Jeff Lee, (413)-256-0433 or visit http://www.filbert.com/pvfs.
---
Note. If you would prefer to receive this monthly newsletter as plain text (no photos or formatting, but requires less space), please click on the link below:
If you would like to be removed from the mailing list click on the link below:
---
Pioneer Valley Folklore Society, Amherst, Mass.
Web site - http://www.filbert.com/pvfs/
Newsletter archives - http://www.filbert.com/pvfs/news/
Email - pvfolk@yahoo.com
Discussion forum and announcements - http://groups.google.com/group/PVFS
Director/Host: Paul Kaplan
Webmaster: Jeff Lee
February 28, 2012