| | |
| --- | --- |
| Pioneer Valley Folklore Society Happenings | June 2012 |
Contents
An evening with Tracy Grammer & Jim Henry at the Nacul Center on June 2
---
Tracy Grammer & Jim Henry will give concert on June 2
The Pioneer Valley Folklore Society is excited to announce a special event — An Evening with Tracy Grammer & Jim Henry.
The concert will take place on Saturday, June 2, 7:00 p.m., at the Nacul Center, 592 Main St., Amherst, MA (see map).
Proceeds will support the operation of the series of Song & Story Swaps held at the Nacul Center on the first Saturday of each month, except July and August.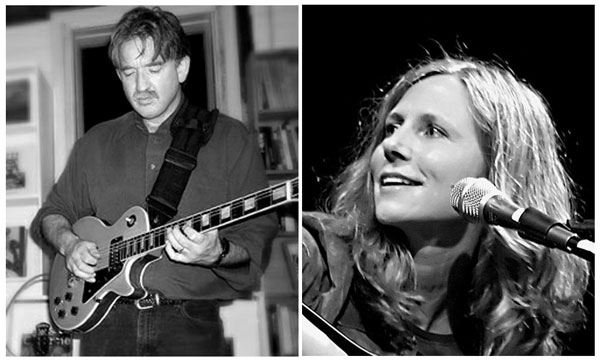 "One of the finest pure musicians anywhere in folkdom," is how the Boston Globe has described fiddle player, guitarist and singer, Tracy Grammer. She gained renown through her musical partnership with widely covered songwriter Dave Carter. The two toured extensively and produced recordings on the Signature Sounds label until Carter's untimely death in 2002.
Grammer continued to perform and spread the popularity of Carter's songs, and in 2003 she began teaming up with guitarist extraordinaire, Jim Henry.
Jim Henry's longtime reputation as a phenomenal all-around musician is well-deserved. He can do it all: play most things stringed, sing lead or harmony, write great songs, produce, engineer and arrange. Four solo recordings and literally hundreds of tracks on other people's recordings have cemented his position as one of the most versatile and talented musicians working in acoustic music today.
The pair has collaborated on an EP, The Verdant Mile. In addition, Henry accompanied Grammer on her well-received album, Flowers of Avalon, which featured nine previously unreleased Dave Carter songs, while Grammer played on Henry's CD, One Horse Town.
Admission for the concert is $18 ($15 for seniors and children under 13).
Advance tickets may be purchased at Food For Thought Books, 106 N. Pleasant
St., Amherst, MA or at the World Eye Bookshop, 156 Main St., Greenfield, MA.
Find additional information about Tracy Grammer at http://www.tracygrammer.com, and about Jim Henry at http://www.jimhenry.net.
For information about the concert contact Paul Kaplan, (413)-687-5002 or visit http://www.filbert.com/pvfs.
Please note that the Song and Story Swap will be taking a summer break in July and August. We return on September 1st.
---
Note. If you would prefer to receive this monthly newsletter as plain text (no photos or formatting, but requires less space), please click on the link below:
If you would like to be removed from the mailing list click on the link below:
---
Pioneer Valley Folklore Society, Amherst, Mass.
Web site - http://www.filbert.com/pvfs/
Newsletter archives - http://www.filbert.com/pvfs/news/
Email - pvfolk@yahoo.com
Discussion forum and announcements - http://groups.google.com/group/PVFS
Director/Host: Paul Kaplan
Webmaster: Jeff Lee
May 29, 2012