| | |
| --- | --- |
| Pioneer Valley Folklore Society Happenings | September 2012 |
Contents
Sean Vernon will kick off fall season of Song & Story Swap
Down Home night at Watermelon Wednesdays
Lou Reviews Tracy Grammer & Jim Henry
---
Poet-singer Sean Vernon will join September 1 Song & Story Swap
Please come share in an evening of music and stories at the Pioneer Valley Folklore Society Song & Story Swap.
Saturday, September 1, 7:00 p.m. at the The Nacul Center, 592 Main St., Amherst, Mass (see map).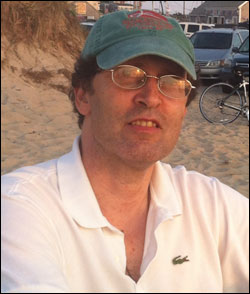 Guest performer for the Sept will be poet and singer-songwriter, Sean Vernon.
Sean Vernon is well regarded for his creative adaptation of poetry to music. He has developed songs from the poems of Emily Dickinson, Robert Frost, William Shakespeare, and others.
Sean Vernon has recorded 6 CDs, and is at work on a 7th, "Hope Is The Thing," his third album of musical settings of poems by Emily Dickinson. Sean recently performed at a benefit concert along with Rani Arbo and Daisy Mayhem and The Boxcar Lilies. The event was organized to help raise money for Sean's healing journey from MS.
A selection of Sean's recordings are available at http://www.cdbaby.com/Artist/SeanVernon
The theme this month is Great Britain.

The Song & Story Swap is open to the public, free of charge with donations accepted. People of all ages gather to share stories and songs that are traditional, newly written, or of personal experiences. You can tell, sing, or lead everyone in singing, or request a song or story. Listeners are welcome.
For information contact Paul Kaplan, (413)-687-5002 or Jeff Lee, (413)-256-0433 or visit http://www.filbert.com/pvfs.
---
Annie Patterson, Pat & Tex Lamountain play Whately Chapel on Sept. 5
The long-running summer music series Watermelon Wednesdays enters its final month of the season on September 5 with "Down Home" night. Folk heroine Annie Patterson will perform, backed up by Cellist Mark Fraser and Anand Nayak of Daisy Mayhem. Opening will be the similarly awesome Pat & Tex Lamountain.
The concert is at the the West Whately Chapel in Whately, MA and begins at 7:30pm. Tickets are $15.
---
Tracy Grammer & Jim Henry revisited
The well-honed ears and cerebellum of Lou Wigdor have come together to produce a recently filed review of our June concert.
Read Tracy Grammer and Jim Henry Captivate Amherst, Foster Dave Carter's Legacy on Lou's blog, Wig & Pen.
---
Note. If you would prefer to receive this monthly newsletter as plain text (no photos or formatting, but requires less space), please click on the link below:
If you would like to be removed from the mailing list click on the link below:
---
Pioneer Valley Folklore Society, Amherst, Mass.
Web site - http://www.filbert.com/pvfs/
Newsletter archives - http://www.filbert.com/pvfs/news/
Email - pvfolk@yahoo.com
Discussion forum and announcements - http://groups.google.com/group/PVFS
Director/Host: Paul Kaplan
Webmaster: Jeff Lee
August 27, 2012