| | |
| --- | --- |
| Pioneer Valley Folklore Society Happenings | November 2012 |
Contents
Folk duo Yankee Notions will join Nov. 3 Song & Story Swap
---
New England folk duo Yankee Notions will join Nov. 3 Song & Story Swap
Please come share in an evening of music and stories at the Pioneer Valley Folklore Society Song & Story Swap.
Saturday, November 3, 7:00 p.m. at the The Nacul Center, 592 Main St., Amherst, Mass (see map).
Guest performers for the event will be folk duo, Yankee Notions.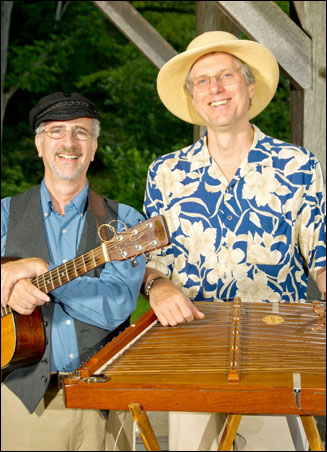 Widely known for their high-spirited programs, Yankee Notions performs traditional and contemporary music of New England. Whether it's an old song in praise of the farmer's life, a rollicking sea chantey, tandem telling of a tall tale, toe-tapping dance tunes, or a recent song about the character and characters of New England, Yankee Notions promises to "please the ear, enrich the mind, and warm the heart."
The duo consists of Jim Douglas on vocals, guitar, and concertina, and Tim Van Egmond on vocals, hammered dulcimer, and limberjack (a small wooden puppet that taps out a rhythm on a paddleboard). The two have released an album together entitled Bridges. In addition, Douglas has published two song collections and made a number of solo recordings of songs and stories, one of which won the American Library Association's prestigious Notable Award.
Van Egmond has recorded three albums and appeared on National Public Radio's A Prairie Home Companion as a member of the contra dance band Swallowtail. Van Egmond is also known for his solo performances as a folksinger and storyteller. Performing together for over twenty years, the two have entertained audiences of all ages throughout New England, including appearances at Old Sturbridge Village, Mystic Seaport, the Mayflower II in Plymouth, and The Museum of Our National Heritage. Yankee Notions has been selected by the New England Foundation for the Arts for the New England States Touring Program.
The theme this month is Buying and Selling.

The Song & Story Swap is open to the public, free of charge with donations accepted. People of all ages gather to share stories and songs that are traditional, newly written, or of personal experiences. You can tell, sing, or lead everyone in singing, or request a song or story. Listeners are welcome.
For information contact Paul Kaplan, (413)-687-5002 or Jeff Lee, (413)-256-0433 or visit http://www.filbert.com/pvfs.
---
Note. If you would prefer to receive this monthly newsletter as plain text (no photos or formatting, but requires less space), please click on the link below:
If you would like to be removed from the mailing list click on the link below:
---
Pioneer Valley Folklore Society, Amherst, Mass.
Web site - http://www.filbert.com/pvfs/
Newsletter archives - http://www.filbert.com/pvfs/news/
Email - pvfolk@yahoo.com
Discussion forum and announcements - http://groups.google.com/group/PVFS
Director/Host: Paul Kaplan
Webmaster: Jeff Lee
October 29, 2012