| | |
| --- | --- |
| Pioneer Valley Folklore Society Happenings | November 2013 |
Contents
Ben Demerath will join November 2 Song & Story Swap
---
Multi-talented musician Ben Demerath will join Nov. 2 Song & Story Swap
Please come share in an evening of music and stories at the Pioneer Valley Folklore Society Song & Story Swap.
Saturday, November 2, 7:00 p.m. at the The Nacul Center, 592 Main St., Amherst, Mass (see map).
Guest performer for the event will be singer-songwriter-guitarist, Ben Demerath.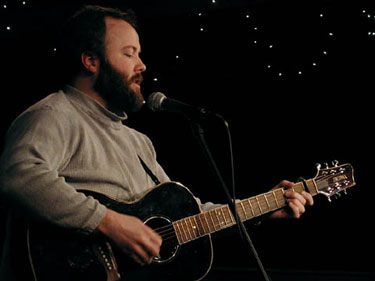 From his gritty, inspired songwriting to his impressive guitar playing and powerful vocal register, Ben Demerath is a pure talent in every sense. His album Jack of Fools garnered recognition and respect from critics and professional performers alike. He has earned wide-ranging coverage in publications such as Dirty Linen, The Boston Herald and Music Row which called the album "a keeper...a simply terrific contemporary-folk performance." Writing from both a personal and observers point of view, Demerath has carved his own niche in the folk world with stories of real people, their triumphs and challenges. While incorporating his eclectic musical background and influences ranging from John Hiatt to Aretha Franklin, Tower of Power to traditional Indian and Irish music, Demerath is a complete original.
Demerath cut his musical teeth on classical works and turned to acoustic music while studying ethnomusicology at Northwestern University. In the early nineties, he co-founded the band Sugarbeat with banjoist Tony Furtado, mandolinist Matt Flinner and vocalist/bassist Sally Truitt. When the group disbanded in 1996, Demerath delved into songwriting, penning some of the songs which are included on Jack of Fools. His solo work has been punctuated by his joining a Sugarbeat reunion in 2000, and doing a stint with the highly regarded bluegrass band Northern Lights.
Additional information about Ben Demerath may be found at http://www.bendemerath.net.
The theme this month is Guilt.

The Song & Story Swap is open to the public, free of charge with donations accepted. People of all ages gather to share stories and songs that are traditional, newly written, or of personal experiences. You can tell, sing, or lead everyone in singing, or request a song or story. Listeners are welcome.
For information contact Paul Kaplan, (413)-687-5002 or Jeff Lee, (413)-256-0433 or visit http://www.filbert.com/pvfs.
---
Note. If you would prefer to receive this monthly newsletter as plain text (no photos or formatting, but requires less space), please click on the link below:
If you would like to be removed from the mailing list click on the link below:
Pioneer Valley Folklore Society, Amherst, Mass.
Web site - http://www.filbert.com/pvfs/
Newsletter archives - http://www.filbert.com/pvfs/news/
Email - pvfolk@yahoo.com
Discussion forum and announcements - http://groups.google.com/group/PVFS
Director/Host: Paul Kaplan
Webmaster: Jeff Lee
October 30, 2013