| | |
| --- | --- |
| Pioneer Valley Folklore Society Happenings | May 2014 |
Contents
Irthlingz Acoustic Duo will join May 3 Song & Story Swap
---
Irthlingz Acoustic Duo will join May 3 Song & Story Swap
Please come share in an evening of music and stories at the Pioneer Valley Folklore Society Song & Story Swap.
Saturday, May 3, 7:00 p.m. at the The Nacul Center, 592 Main St., Amherst, Mass (see map).
Guest performers for the event will be the west-coast folk duo, Irthlingz Acoustic Duo.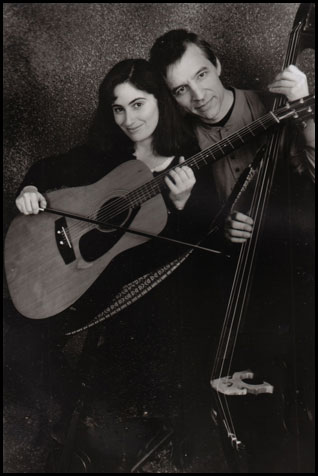 Irthlingz Acoustic Duo was born when Sharon Abreu and Mike Hurwicz met at the People's Voice coffeehouse in Greenwich Village in 1998. Soon the activist-singing-songwriting-goofing-around duo was appearing with legendary folk singer Pete Seeger in concerts to benefit the Ships to Save the Waters conference, the Delaware Bay Schooner Project and the Hudson River Sloop Clearwater's New Boat Fund.
Sharon and Mike have sung in concert for the World Summit on Sustainable Development in South Africa, and for 2004 Nobel Peace Prize winner Wangari Maathai. In 2011, Sharon received the Spirit of Nature, Ecology and Society Environmental Justice Award at City University of New York for her climate change show "The Climate Monologues."
Sharon and Mike's recordings have been played on radio stations across the U.S. Sharon's song "Change in the Climate" became Betsy Rosenberg's climate change theme song for her nationally-syndicated radio show EcoTalk on Air America.
Sharon Abreu and Mike Hurwicz make their home in Washington State. The Song & Story Swap is pleased to be able to present this vibrant duo during their visit to Western Mass.
More info about Sharon and Mike is available at http://irthlingz.com
The theme this month is Carrying On.
The Song & Story Swap is open to the public, free of charge with donations accepted. People of all ages gather to share stories and songs that are traditional, newly written, or of personal experiences. You can tell, sing, or lead everyone in singing, or request a song or story. Listeners are welcome.
For information contact Paul Kaplan, (413)-687-5002 or Jeff Lee, (413)-256-0433 or visit http://www.filbert.com/pvfs.
---
Note. If you would prefer to receive this monthly newsletter as plain text (no photos or formatting, but requires less space), please click on the link below:
If you would like to be removed from the mailing list click on the link below:
Pioneer Valley Folklore Society, Amherst, Mass.
Web site - http://www.filbert.com/pvfs/
Newsletter archives - http://www.filbert.com/pvfs/news/
Email - pvfolk@yahoo.com
Discussion forum and announcements - http://groups.google.com/group/PVFS
Director/Host: Paul Kaplan
Webmaster: Jeff Lee
April 30, 2014