| | |
| --- | --- |
| Pioneer Valley Folklore Society Happenings | Summer 2014 |
Contents

Three summer concerts to recommend
This Sunday — Stellar roster honors Peter and Kathy Lehndorff
August 8 — Carrying on the Legacy of Pete Seeger
September 6 — An evening with Cliff Eberhardt
---
Three summer concerts to recommend
Please consider attending these shows featuring great musicians performing for worthy causes.
A concert to Honor and Benefit Peter & Kathy Lehndorff takes place this Sunday, July 27, at the Nacul Center in Amherst. Peter lehndorff is a gifted and original singer-songwriter whom some of you may remember was Song & Story Swap featured guest 5 years ago. Among the artists who will be performing are Jim Henry & Tracy Grammer, The Nields, and Bruce King. Proceeds go to the Hintington Disease Program Fund at the UConn Health Center. The event begins at 7pm. Contact Michael Orlen at 413-256-1630 for more info, or click below.
---
Singing for Food and Freedom — Carrying on the Legacy of Pete Seeger is part of the 40th annual Northeast Organic Farming Association conference. Featuring Charlie King, Sarah Stockwell Arthen and Ben Grosscup, the show commemorates the musical activism of Pete Seeger. It takes place at the Cape Cod Lounge of UMass, Amherst on Friday, August 8 at 7:30pm. Contact Ben Grosscup at 413-658-5374 for more info, or click below.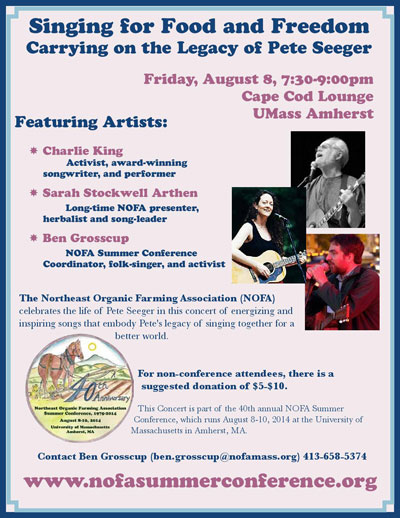 ---
An evening with Cliff Eberhardt will be take place at the Nacul Center in Amherst on Saturday, September 6 at 7pm. Cliff Eberhardt is a superb singer-songwriter and performer, and Pioneer Valley Folklore Society is excited to be presenting him at our annual fundraising concert. Proceeds go toward operating the monthly Song & Story Swaps, a Pioneer Valley institution for more than twenty years.
Tickets will be available at Amherst Books, 8 Main St., Amherst. Contact Paul Kaplan at 413-687-5002 for more info, or click below.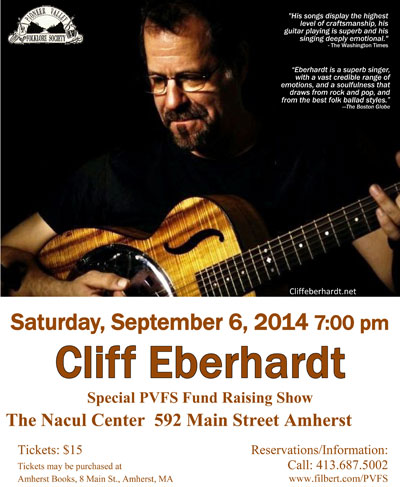 ---
The Song & Story Swap is open to the public, free of charge with donations accepted. People of all ages gather to share stories and songs that are traditional, newly written, or of personal experiences. You can tell, sing, or lead everyone in singing, or request a song or story. Listeners are welcome.
NOTE. If you would like to help sustain the Song & Story Swaps by making a donation, please contact Paul Kaplan. Our goal is to meet our modest expenses through your contributions, which allows us to turn over each event's entire collection to the featured artist.
Please note that the Song & Story Swap will be on summer break in July and August. We will resume our regular monthly schedule on September 6.
For information contact Paul Kaplan, (413)-687-5002 or Jeff Lee, (413)-256-0433 or visit http://www.filbert.com/pvfs.
---
Note. If you would prefer to receive this monthly newsletter as plain text (no photos or formatting, but requires less space), please click on the link below:
If you would like to be removed from the mailing list click on the link below:
Pioneer Valley Folklore Society, Amherst, Mass.
Web site - http://www.filbert.com/pvfs/
Newsletter archives - http://www.filbert.com/pvfs/news/
Email - pvfolk@yahoo.com
Discussion forum and announcements - http://groups.google.com/group/PVFS
Director/Host: Paul Kaplan
Webmaster: Jeff Lee
July 23, 2014