| | |
| --- | --- |
| Pioneer Valley Folklore Society Happenings | September 2014 |
Contents
September 6 — An evening with Cliff Eberhardt
First Friday Coho Concert to feature 4 fab performers
John Malcolm and Paul Kaplan play Montague on Sept. 12
---
Cliff Eberhardt will give PVFS benefit concert on September 6
The Pioneer Valley Folklore Society is excited to present a special event — An Evening with Cliff Eberhardt.

The concert will take place on Saturday, September 6, 7:00 p.m., at the Nacul Center, 592 Main St., Amherst, MA (see map).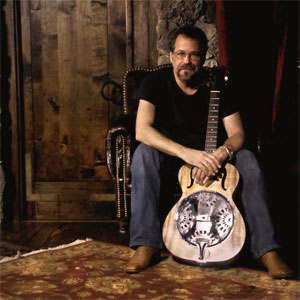 Cliff Eberhardt is one of the champions of contemporary folk, American roots music. He grew up in Bryn Mawr, Pennsylvania, not far from the Main Point Coffee House where he heard and was influenced by musicians like James Taylor, John Prine, Bonnie Raitt, Muddy Waters, Mississippi John Hurt, Jackson Browne. Growing up in a musical family, the Great American Songbook songwriters like Cole Porter, the Gershwins, and Rodgers & Hart also impacted his music.

Cliff started playing professionally at age 15, and after stints in Illinois and Colorado, became a major figure in the New Folk scene in Greenwich Village in the 1980s, along with peers John Gorka, Suzanne Vega, Lucy Kaplansky, Julie Gold, Steve Forbert, Christine Lavin, Shawn Colvin. Eberhardt's national and international tours began at age 15, and included extended tours with The Band and Richie Havens (who sings with Cliff on The Long Road). Eberhardt has released nine albums, including 500 Miles: The Blue Rock Sessions, his most recent on his label, Red House Records.

In the spring of 2012, Eberhardt appeared at the Folger Shakespeare Theater in Washington, D.C., where he received rave reviews (and won a prestigious Helen Hayes Award) for his performance of his original music as The Blind Balladeer in a Wild West version of The Taming of the Shrew. Shrew Songs, his most recent release, is a compilation of his music from the show – songs Cliff wrote specifically for Shrew as well as some of his classics used in the show – it's all acoustic, and all Eberhardt.

Cliff is a gifted songwriter and performer of his contemporary folk, bluesy and romantic songs, delivering extremely strong live shows. His superb guitar playing, soulful singing, and engaging wit make for a "compelling, thought-filled, emotional roller coaster of a concert."

Admission for the concert is $15. Advance tickets may be purchased at Amherst Books, 8 Main St., Amherst, MA. The event serves as a benefit fundraiser to help sustain the Pioneer Valley Folklore Society's monthly Song and Story Swaps, an area institution for more than twenty years.

Find additional information about Cliff Eberhardt at http://www.cliffeberhardt.net/.

For information about the concert contact Paul Kaplan, (413)-687-5002 or visit http://www.filbert.com/pvfs.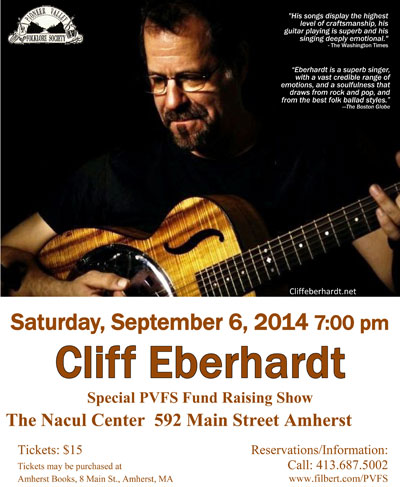 ---
First Friday Coho Concert to feature 4 fab performers
The considerable talents of Peter Blood and Annie Patterson (compilers of Rise up Singing), Michael Nix (inventor of the banjar) and Paul Kaplan (songwriter included on Grammy-winning Broadside anthology) will warm the stage at this month's First Friday Coho Concert. The event will take place on September 5, the Pioneer Valley Cohousing Great Room, at 120 Pulpit Hill Rd, Amherst at 7:30 p.m.
Tickets are available at the door at a sliding scale of $10 - $20.
---
Paul Kaplan and Jim Malcom play Montague 9/12
On Friday September 12th, Paul Kaplan be at the Montague Community Hall, 34 Main Street, Montague MA, opening for Scottish folksinger and songwriter Jim Malcolm. Paul will be singing his songs for the first 20 minutes. The concert begins at 7.30 pm. Advance tickets $15/Tickets at the door $18. For further info and tickets contact Louise Dunphy: celticcrossings@wmua.org or call 413-548-9860.
Note. If you would prefer to receive this monthly newsletter as plain text (no photos or formatting, but requires less space), please click on the link below:
If you would like to be removed from the mailing list click on the link below:
Pioneer Valley Folklore Society, Amherst, Mass.
Web site - http://www.filbert.com/pvfs/
Newsletter archives - http://www.filbert.com/pvfs/news/
Email - pvfolk@yahoo.com
Discussion forum and announcements - http://groups.google.com/group/PVFS
Director/Host: Paul Kaplan
Webmaster: Jeff Lee
September 2, 2014