| | |
| --- | --- |
| Pioneer Valley Folklore Society Happenings | January 2015 |
Contents
Ray Mason will join January 3 Song & Story Swap
PMN Winter Gathering set for Jan. 23-25 in Greenfield
Historical contributions from recent guests
---
Ray Mason will join January 3 Song & Story Swap
Please come share in an evening of music and stories at the Pioneer Valley Folklore Society Song & Story Swap.
Saturday, January 3, 7:00 p.m. at the The Nacul Center, 592 Main St., Amherst, Mass (see map).
Ushering in the first Song & Story Swap of the new year will be singer-songwriter, guitarist and bassist, Ray Mason.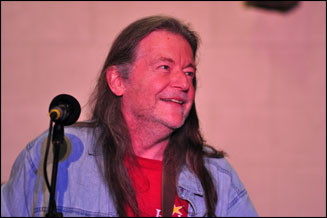 Ray Mason has been a mainstay of the Pioneer Valley music scene for nearly fifty years. Ray has played guitar or bass in the Buck Rogers Movement, the Fourgone Conclusion, Seagull, the Sailcats, Signal, the Yankee Rhythm Band, the Stringbusters, the Ware River Club, the Lonesome Brothers and the Ray Mason Band. His first guitar, a gift from his grandmother in 1964, was a Sears Silvertone electric, and he relies on a vintage Silvertone and Peavey Bandit 65 amp in his solo performances.
Known for his refreshing, accessible songwriting style, Ray composes songs for his two bands the Lonesome Brothers and the Ray Mason Band. He has established himself in Western Massachusetts as one of the area's most influential musicians, and has recorded with J. Mascis, Lloyd Cole, Cliff Eberhardt and Cheri Knight, among others.
Ray's 10th and most recent CD, A Man and His Silvertone, was recorded live in the studio with no overdubs, warts and all. He achieved a result he describes as, "as real as I can get."
Catch Ray Mason making music on his Silvertone at the January 3 Song & Story Swap.
Find out more about Ray Mason at http://www.raymason.com.
The theme this month is Bugs.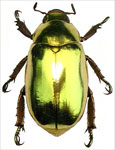 The Song & Story Swap is open to the public, free of charge with donations accepted. People of all ages gather to share stories and songs that are traditional, newly written, or of personal experiences. You can tell, sing, or lead everyone in singing, or request a song or story. Listeners are welcome.
For information contact Paul Kaplan, (413)-687-5002 or visit http://www.filbert.com/pvfs.
---
People's Music Network Winter Gathering on for Jan. 23-25 in Greenfield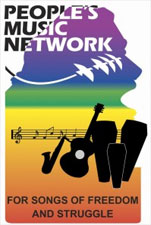 The PMN Winter Gathering brings together a rich blend of activists and artists using music for social change.
It begins with an 7:30pm Friday night concert featuring a stellar lineup that includes Kim and Reggie Harris, Charlie King, Annie Patterson, Lorre Wyatt and others. The entire weekend is a festival of performances, workshops (33 in all) and singalongs.
The event will be held at the Middle School, 195 Federal St. in Greenfield, MA. Register by January 2 to receive an early bird discount. Contact Ben Grosscup at 413-658-5374 or ben.grosscup@peoplesmusic.org for more information, or visit http://peoplesmusic.org.
---
Historical contributions from recent guests
We are much indebted to last month's Song & Story Swap guest, Jim Rooney, not only for an awesome performance with Chris Brashear, but also for donating the photo below.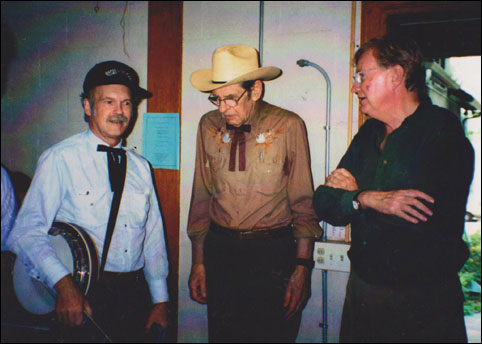 Taken some years ago, it features Pioneer Valley Folklore Society founders Bill Keith (L) and Jim Rooney (R) flanking country music favorite Wynn Fay of Belchertown.
November's guest, Montreal ethnomusicologist Craig Morrison, has posted on his web site dozens of musician interviews he has done over the years. He recently added a 1998 interview he did with Bill Keith. Read it at http://www.craigmorrison.com/spip.php?article91.
---
Note. If you would prefer to receive this monthly newsletter as plain text (no photos or formatting, but requires less space), please click on the link below:
If you would like to be removed from the mailing list click on the link below:
Pioneer Valley Folklore Society, Amherst, Mass.
Web site - http://www.filbert.com/pvfs/
Newsletter archives - http://www.filbert.com/pvfs/news/
Email - pvfolk@yahoo.com
Discussion forum and announcements - http://groups.google.com/group/PVFS
Director/Host: Paul Kaplan
Webmaster: Jeff Lee
December 29, 2014