| | |
| --- | --- |
| Pioneer Valley Folklore Society Happenings | September 2015 |
Contents
Singer-guitarist-composer Jim Scott will join September 5 Song & Story Swap
Purchase Rise Again at Song & Story Swap
---
Jim Scott will join September 5 Song & Story Swap
Please come share in an evening of music and stories at the Pioneer Valley Folklore Society Song & Story Swap.
Saturday, September 5, 7:00 p.m. at the The Nacul Center, 592 Main St., Amherst, Mass (see map).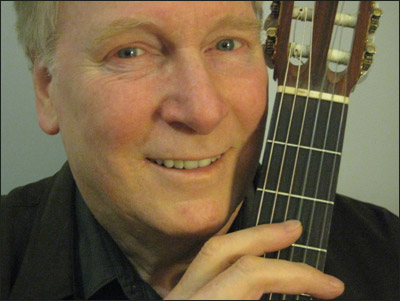 Guest performer at the September 5 Song & Story Swap will be composer, guitarist, singer and activist, Jim Scott.

Jim Scott has made it his business to create and perform music that celebrates peace, justice and the earth. From his work with the Paul Winter Consort where he co-wrote the celebrated Missa Gaia - Earth Mass and many other pieces, Jim has gone on to create an extensive body of work. He has recorded seven albums of original music, and compiled and arranged The Earth and Spirit Songbook, an anthology of 110 songs of earth and peace by many contemporary songwriters, plus some of his own.

From songs and choral music to soundtracks for documentaries and the PBS series Body and Soul, Jim's music possesses an exceptional depth of artistry and craft. His musical The Tree and Me has been given full cast productions in Jamestown NY and Albion MI. A whole line of Jim's choral compositions and his book of guitar technique All Scales in All Positions are published by Hal Leonard Corp. Jim helped to create the "Green Sanctuary" program and accompanying handbook for building an ecological/spiritual awareness in church congregations.

Jim Scott's enchanting manner and conviction moved folk legend Pete Seeger to call him "Some kind of magician."

Learn more at http://www.jimscottguitar.com.

The theme this month is The Forest.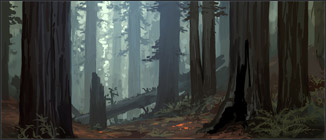 The Song & Story Swap is open to the public, free of charge with donations accepted ($5 - $10 is suggested). People of all ages gather to share stories and songs that are traditional, newly written, or of personal experiences. You can tell, sing, or lead everyone in singing, or request a song or story. Listeners are welcome.
For information contact Paul Kaplan, (413)-687-5002 or visit http://www.filbert.com/pvfs.
---
Rise Again now available!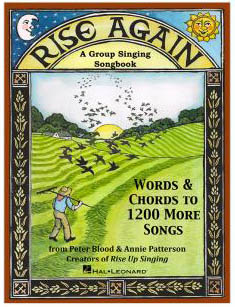 Rise Again, Peter Blood and Annie Patterson's long awaited follow-up to their popular songbook, Rise Up Singing, has been released. It contains a completely new collection of words and chords to 1200 singalong songs organized into genres. In addition to topics carried over from the first book, there are several new ones, such as British Invasion & Rock, Pub Songs, and Millennial Songs (written since 1995).
A limited supply of Rise Again books will be available for purchase at the upcoming Song & Story Swap. As a fundraiser for the Swap, we will be offering the books at $40 each, which represents a modest markup above list price. All profits will go toward the cost of operating the Song & Story Swap for the coming year.
---
Note. If you would prefer to receive this monthly newsletter as plain text (no photos or formatting, but requires less space), please click on the link below:
If you would like to be removed from the mailing list click on the link below:
Pioneer Valley Folklore Society, Amherst, Mass.
Web site - http://www.filbert.com/pvfs/
Newsletter archives - http://www.filbert.com/pvfs/news/
Email - pvfolk@yahoo.com
Discussion forum and announcements - http://groups.google.com/group/PVFS
Director/Host: Paul Kaplan
Webmaster: Jeff Lee
September 1, 2015