| | |
| --- | --- |
| Pioneer Valley Folklore Society Happenings | November 2015 |
Contents
Ray Mason will join November 7 Song & Story Swap
Remembering Bill Keith
---
Ray Mason will join November 7 Song & Story Swap
Please come share in an evening of music and stories at the Pioneer Valley Folklore Society Song & Story Swap.
Saturday, November 7, 7:00 p.m. at the The Nacul Center, 592 Main St., Amherst, Mass (see map).
The Song & Story Swap's November guest artist will be singer-songwriter, guitarist and bassist, Ray Mason.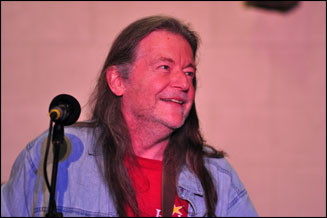 Holyoke native Ray Mason has been a standout on the Pioneer Valley music scene for nearly fifty years. Ray has played guitar or bass in the Buck Rogers Movement, the Fourgone Conclusion, Seagull, the Sailcats, Signal, the Yankee Rhythm Band, the Stringbusters, the Ware River Club, the Lonesome Brothers and the Ray Mason Band. His first guitar, a gift from his grandmother in 1964, was a Sears Silvertone electric, and he relies on a vintage Silvertone and Peavey Bandit 65 amp in his solo performances.
Known for his refreshing, accessible songwriting style, Ray composes songs for his two bands the Lonesome Brothers and the Ray Mason Band. He has established himself in Western Massachusetts as one of the area's most influential musicians, and has recorded with J. Mascis, Lloyd Cole, Cliff Eberhardt and Cheri Knight, among others.
Ray's 10th and most recent CD, A Man and His Silvertone, was recorded live in the studio with no overdubs. The result, he points out, "is as real as I can get."
Catch Ray Mason making music on his Silvertone at the November 7 Song & Story Swap.
Find out more about Ray Mason at http://www.raymason.com.
The theme this month is Home Furnishings.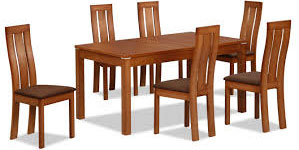 The Song & Story Swap is open to the public, free of charge with donations accepted ($5 - $10 is suggested). People of all ages gather to share stories and songs that are traditional, newly written, or of personal experiences. You can tell, sing, or lead everyone in singing, or request a song or story. Listeners are welcome.
For information contact Paul Kaplan, (413)-687-5002 or visit http://www.filbert.com/pvfs.
---
Remembering Bill Keith
Bill Keith, who, with fellow Amherst College student Jim Rooney, founded the Pioneer Valley Folklore Society in 1960, passed away this month at his home in Woodstock, NY.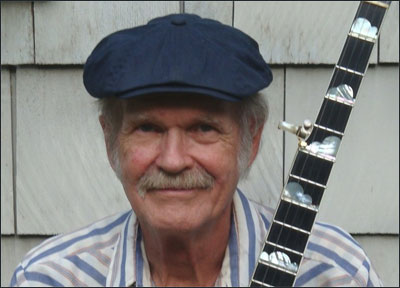 Universally praised as a gentleman and master teacher, Bill reached the height of achievement as both a musician and innovator.
While at Amherst he taught himself banjo from Pete Seeger's guide, How to Play the 5-String Banjo. Driven by a desire to play classic fiddle tunes such as "The Devil's Dream," he broke away from the traditional syncopated Earl Scruggs style of banjo picking and developed a melodic technique which became known as the Keith style. Bill and his banjo technique came into prominence when he joined the band of the "father of bluegrass," Bill Monroe.
Another Bill Keith innovation was a new type of tuning peg which he created with Amherst College friend Dan Bump, that allows easy switching between tunings. The Keith tuner is used widely today, and is manufactured by the Beacon Banjo Comapny that he established.
Watch Bill Keith demonstrate his style, his tuning pegs and his virtuosity in his rendition of Auld Lang Syne at https://www.youtube.com/watch?v=e1URm2h8LG4.
---
Note. If you would prefer to receive this monthly newsletter as plain text (no photos or formatting, but requires less space), please click on the link below:
If you would like to be removed from the mailing list click on the link below:
Pioneer Valley Folklore Society, Amherst, Mass.
Web site - http://www.filbert.com/pvfs/
Newsletter archives - http://www.filbert.com/pvfs/news/
Email - pvfolk@yahoo.com
Discussion forum and announcements - http://groups.google.com/group/PVFS
Director/Host: Paul Kaplan
Webmaster: Jeff Lee
November 4, 2015