| | |
| --- | --- |
| Pioneer Valley Folklore Society Happenings | January 2016 |
Contents
Chris Elliott will join January 2 Song & Story Swap
---
Chris Elliott will join January 2 Song & Story Swap
Please come share in an evening of music and stories at the Pioneer Valley Folklore Society Song & Story Swap.
Saturday, January 2, 7:00 p.m. at the The Nacul Center, 592 Main St., Amherst, Mass (see map).
The Song & Story Swap's January guest artist will be singer-songwriter Chris Elliott.
Chris Elliott's compositions range from scathing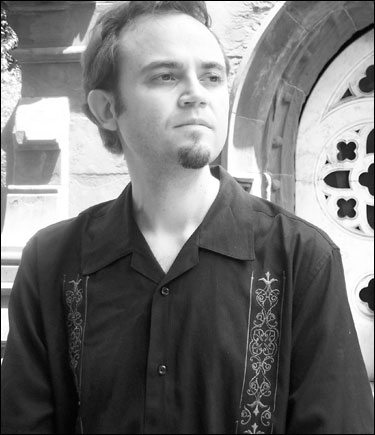 irony to genuine beauty. Putting a light side on existential despair, his songs tell stories of love and death with catchy melodies over driving acoustic guitar. His lyrical themes touch on religion, cult filmmaker Ed Wood, medical marijuana, and food service jobs, while his musical sensibilities derive from traditional folk, rock, blues, and the occasional metal riff.

Chris starting writing funny songs in his teens. While he was at Bard College, the satirical edge of his writing turned more poignant. His unusual handmade acoustic guitar, crafted by luthier Alan Carruth, was won in the WUMB 91.9 FM/Borders Books and Music Songwriter Competition.

When not performing solo, Chris pairs up with Lisa Austin in the duo, Austin and Elliott. They have recorded two albums together and will be appearing at Northampton First Night.

Marilyn Ray Beyer of radio station WUMB describes Chris Elliott's music: "Laugh now, think later... A poet in a songwriter suit."

Catch Chris Elliott at the January 2 Song & Story Swap.

Find out more about Chris Elliott at http://www.christopherthomaselliott.com/.

The theme this month is Ring.

The Song & Story Swap is open to the public, free of charge with donations accepted ($5 - $10 is suggested). People of all ages gather to share stories and songs that are traditional, newly written, or of personal experiences. You can tell, sing, or lead everyone in singing, or request a song or story. Listeners are welcome.
For information contact Paul Kaplan, (413)-687-5002 or visit http://www.filbert.com/pvfs.
---
Note. If you would prefer to receive this monthly newsletter as plain text (no photos or formatting, but requires less space), please click on the link below:
If you would like to be removed from the mailing list click on the link below:
Pioneer Valley Folklore Society, Amherst, Mass.
Web site - http://www.filbert.com/pvfs/
Newsletter archives - http://www.filbert.com/pvfs/news/
Email - pvfolk@yahoo.com
Discussion forum and announcements - http://groups.google.com/group/PVFS
Director/Host: Paul Kaplan
Webmaster: Jeff Lee
December 29, 2015