| | |
| --- | --- |
| Pioneer Valley Folklore Society Happenings | February 2016 |
Contents
Paul Kaplan will be featured performer at February 6 Song & Story Swap
Florence C.C. seeks performers
---
Paul Kaplan will join February 6 Song & Story Swap
Please come share in an evening of music and stories at the Pioneer Valley Folklore Society Song & Story Swap.
Saturday, February 6, 7:00 p.m. at the The Nacul Center, 592 Main St., Amherst, Mass (see map).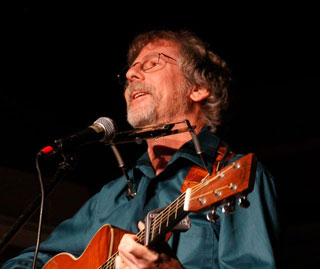 The Song & Story Swap's February 2016 guest artist will be Paul Kaplan.
Musician and songwriter Paul Kaplan has been a popular presence in the folk music world since the late 1960s when his early anti-Vietnam war songs were published in the legendary protest magazine Broadside.
His involvement with the singer-songwriter movement was sparked by his early love of the songs of Bob Dylan, Phil Ochs and Tom Paxton. He pursued that love as a frequent participant at the Songwriters' Exchange at the Cornelia Street Cafe, in New York, and as a prolific contributor to The Fast Folk Musical Magazine, in which ten of his songs were included. In the late 1970s, Paul had the opportunity to produce three posthumous albums by Phil Ochs.
His five albums have featured original songs later covered by such folk music notables as Sally Rogers, Claudia Schmidt, Jay Ungar and Molly Mason, and Sharon, Lois and Bram, to name just a few. Paul's warm style and gentle humor have charmed audiences at the Philadelphia Folk Festival, the Clearwater Festival and Denmark's prestigious Tønder Festival, as well as such venues as Passim, The Eighth Step, Mother's Wine Emporium and Golden Link.
Paul has been honored by the inclusion of his songs in two monumental collections produced by Smithsonian Folkways. One of his first songs, "Vietnam," appears in the Grammy-nominated Best of Broadside. A second song, "King of Hearts," is featured in Fast Folk: A Community of Singers and Songwriters. And in 2004 "Henry the Accountant" was included in Being Human—Readings from the President's Council on Bioethics, along with works by Homer, Shakespeare, Dickinson, Whitman, and Tolstoy.
For the past seventeen years Paul Kaplan has served as host and organizer of the monthly Pioneer Valley Folklore Society Song & Story Swap in Amherst.
Paul's most recent album The Folk Process, inspired the NY Pinewoods Folk Music Club Newsletter to comment, "Paul Kaplan is a super-talented singer/songwriter, with a fine repertoire of serious and funny songs…. Highly recommended."
Visit Paul Kaplan's website at http://www.paulkaplanmusic.com/.
The theme this month is Hearts.
The Song & Story Swap is open to the public, free of charge with donations accepted ($5 - $10 is suggested). People of all ages gather to share stories and songs that are traditional, newly written, or of personal experiences. You can tell, sing, or lead everyone in singing, or request a song or story. Listeners are welcome.
For information contact Paul Kaplan, (413)-687-5002 or visit http://www.filbert.com/pvfs.
---
Florence C.C. seeks concert performers
The Florence Congregational Church seeks performers of all ages for a concert series to be held on Saturday afternoons in April (2, 9, 16, 23, 30) at 2pm. The concerts will consist of joint performances and may include poetry readings, storytelling, and theater, in addition to varied music.
The series will benefit Big Brothers Big Sisters of Hampshire County. For more information call (413)-584-1325 or email rebecca.flinker@gmail.com.
---
Note. If you would prefer to receive this monthly newsletter as plain text (no photos or formatting, but requires less space), please click on the link below:
If you would like to be removed from the mailing list click on the link below:
Pioneer Valley Folklore Society, Amherst, Mass.
Web site - http://www.filbert.com/pvfs/
Newsletter archives - http://www.filbert.com/pvfs/news/
Email - pvfolk@yahoo.com
Discussion forum and announcements - http://groups.google.com/group/PVFS
Director/Host: Paul Kaplan
Webmaster: Jeff Lee
February 2, 2016