| | |
| --- | --- |
| Pioneer Valley Folklore Society Happenings | April 2016 |
Contents
An evening with Annie Patterson & Friends at the Nacul Center on April 2
Videos of last month's Bob Blue Tribute posted
---
Annie Patterson & Friends will give concert on April 2
We are excited to announce that coming to the Nacul Center on April 2 will be a special concert performance by Annie Patterson and Friends.
Saturday, April 2, 7:00 p.m. at the The Nacul Center, 592 Main St., Amherst, Mass (see map).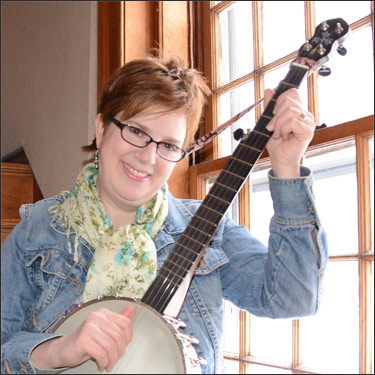 Joining Annie will be Jim Henry on guitar and Peter Blood on banjo. The concert will support the Pioneer Valley Folklore Society's monthly Song & Story Swaps, now more than 20 years running. Tickets for the show are $15 general admission, and $12 for children and seniors, and may be purchased online at https://www.riseupandsing.org/events/pioneer-valley-folklore-society or at the door.
Annie Patterson has performed and led music retreats across three continents. She is best known for co-creating, along with her husband, Peter Blood, the popular songbook "Rise Up Singing" and last fall's follow-up volume, "Rise Again," with 1200 more songs. They are freshly returned from a concert tour of the southeastern states to promote the new publication.
Over the last 2 decades, Annie has honed her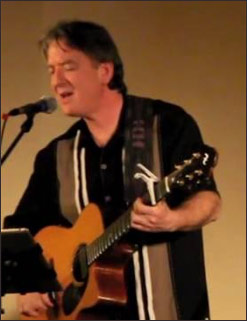 skills as a folk performer and jazz vocalist. She is a standout interpreter of songs from the Appalachian Mountains and British Isle ballads, accompanying herself on her Lo Gordon or Washburn banjo. Annie is a jazz and swing vocalist with the swing band Girls from Mars (for o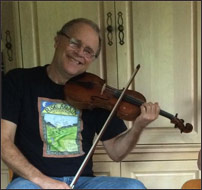 ver 30 years) and as a regular guest vocalist with The O-Tones, a swing band based in Western Massachusetts.
Find out more about Annie and her music work at http://riseupandsing.org.
The Song & Story Swap, which will resume on May 7, is open to the public, free of charge with donations accepted ($5 - $10 is suggested). People of all ages gather to share stories and songs that are traditional, newly written, or of personal experiences. You can tell, sing, or lead everyone in singing, or request a song or story. Listeners are welcome.
For information contact Paul Kaplan, (413)-687-5002 or visit http://www.filbert.com/pvfs.
---
Bob Blue Tribute captured on video
Joe Oliverio has posted several videos from last month's Tribute to the Music and Life of Bob Blue. Visit http://www.bobblue.org/song-story-swap-2016-in-honor-of-bob-blue/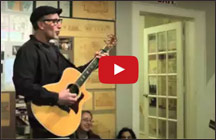 ---
Note. If you would prefer to receive this monthly newsletter as plain text (no photos or formatting, but requires less space), please click on the link below:
If you would like to be removed from the mailing list click on the link below:
Pioneer Valley Folklore Society, Amherst, Mass.
Web site - http://www.filbert.com/pvfs/
Newsletter archives - http://www.filbert.com/pvfs/news/
Email - pvfolk@yahoo.com
Discussion forum and announcements - http://groups.google.com/group/PVFS
Director/Host: Paul Kaplan
Webmaster: Jeff Lee
March 29, 2016