| | |
| --- | --- |
| Pioneer Valley Folklore Society Happenings | May 2016 |
Contents
David and Sophie Buskin will join May 7 Song & Story Swap
---
David and Sophie Buskin will perform at May 7 Song & Story Swap
Please come share in an evening of music and stories at the Pioneer Valley Folklore Society Song & Story Swap.
Saturday, May 7, 7:00 p.m. at the The Nacul Center, 592 Main St., Amherst, Mass (see map).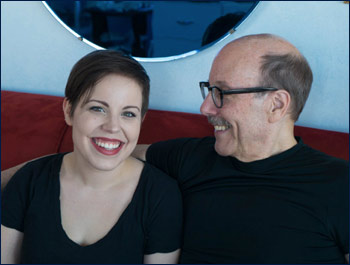 David Buskin has been writing and performing music his entire life, most recently as part of the comical "geezer trio," Modern Man, which has been described as filling the void between the Three Tenors and the Three Stooges. For years he comprised half of the legendary folk/rock duo Buskin & Batteau, called by the Washington Post "an irresistible amalgam of melodic, sensual pop, folkie grit and killer wit."
After selling five songs to Mary Travers for her album, "Morning Glory," Buskin toured with her for several years as her opening act and they became lifelong friends. Some of the other artists who have recorded his songs include: Astrud Gilberto, Judy Collins, Peter, Paul & Mary, Johnny Mathis, Tom Rush, Roberta Flack, Dixie Carter, and Tracy Nelson.
In addition to his folk-rock music, Buskin has written numerous advertising jingles. He co-wrote All Aboard America for Amtrak, and did work for Burger King, JC Penney, and the US Postal Service. Buskin wrote the jingle for NBC for which he won a Clio Award in 1983.
He also helped create the children's show Generation O that was seen on the WB Kid's Network. He is currently working on a play to be directed by Tony Award winner and fellow Brown University graduate, James Naughton.
David Buskin will be joining forces with his daughter, talented singer/songwriter and budding guitarist Sophie Buskin.
Find out more about David Buskin at http://www.buskinandbatteau.com/.
The theme this month is Questions.

The Song & Story Swap is open to the public, free of charge with donations accepted ($5 - $10 is suggested). People of all ages gather to share stories and songs that are traditional, newly written, or of personal experiences. You can tell, sing, or lead everyone in singing, or request a song or story. Listeners are welcome.
For information contact Paul Kaplan, (413)-687-5002 or visit http://www.filbert.com/pvfs.
---
Note. If you would prefer to receive this monthly newsletter as plain text (no photos or formatting, but requires less space), please click on the link below:
If you would like to be removed from the mailing list click on the link below:
Pioneer Valley Folklore Society, Amherst, Mass.
Web site - http://www.filbert.com/pvfs/
Newsletter archives - http://www.filbert.com/pvfs/news/
Email - pvfolk@yahoo.com
Discussion forum and announcements - http://groups.google.com/group/PVFS
Director/Host: Paul Kaplan
Webmaster: Jeff Lee
May 2, 2016